We don't want you to have to worry about hidden fees, taxes, or surprise upcharges when it comes to your in-home massage or Zeel massage membership (like some other massage services have), so here's everything you'd like to know upfront about our massage pricing.
How much does Zeel cost?
A Zeel in-home massage can cost as little as $117 for a 60-minute session, which includes an 18% gratuity (prices vary by market)
A Zeel massage at Member Pricing costs significantly less, starting at $93 for a 60-minute massage, always including an 18% gratuity
Either way, you're getting a spa-quality experience for less than an equivalent five-star spa cost, and less than other massage apps charge. You get the full 60 minutes of massage therapy. We don't cut into your session with dressing time.
You can get cheaper massages, of course, but our goal is to provide an excellent massage at a fair price — not to bring you a bargain experience. After all, you only have one back.

What about massage tipping?
Only the finest massage therapists are available in the Zeel network — all of whom are licensed, insured, and carefully vetted by the Zeel team.
The massage therapist's tip is automatically calculated through the Zeel app, to ensure fair compensation for them as well as a stress-free (and cash-free) experience for you.
The total is clearly broken down on your receipt, showing your massage cost, tip amount, and how much your therapist earned.
Why does the base price change?
The variation in price depends on the city in which you're getting your massage delivered, and is consistent with overall market rate for spa massages in that particular city.
For example, in Denver a Zeel massage costs $116, while in Chicago the same massage costs $128, and in New York City it costs $182.
How do I find out the exact price of a massage near me?

To see what a Zeel massage costs in your area:
Simply go to our locations page
Type in your zip code and hit enter
You'll see a popup with non-member price compared to our Massage Membership price
The membership price gives you an average 20%* savings from the non-member price.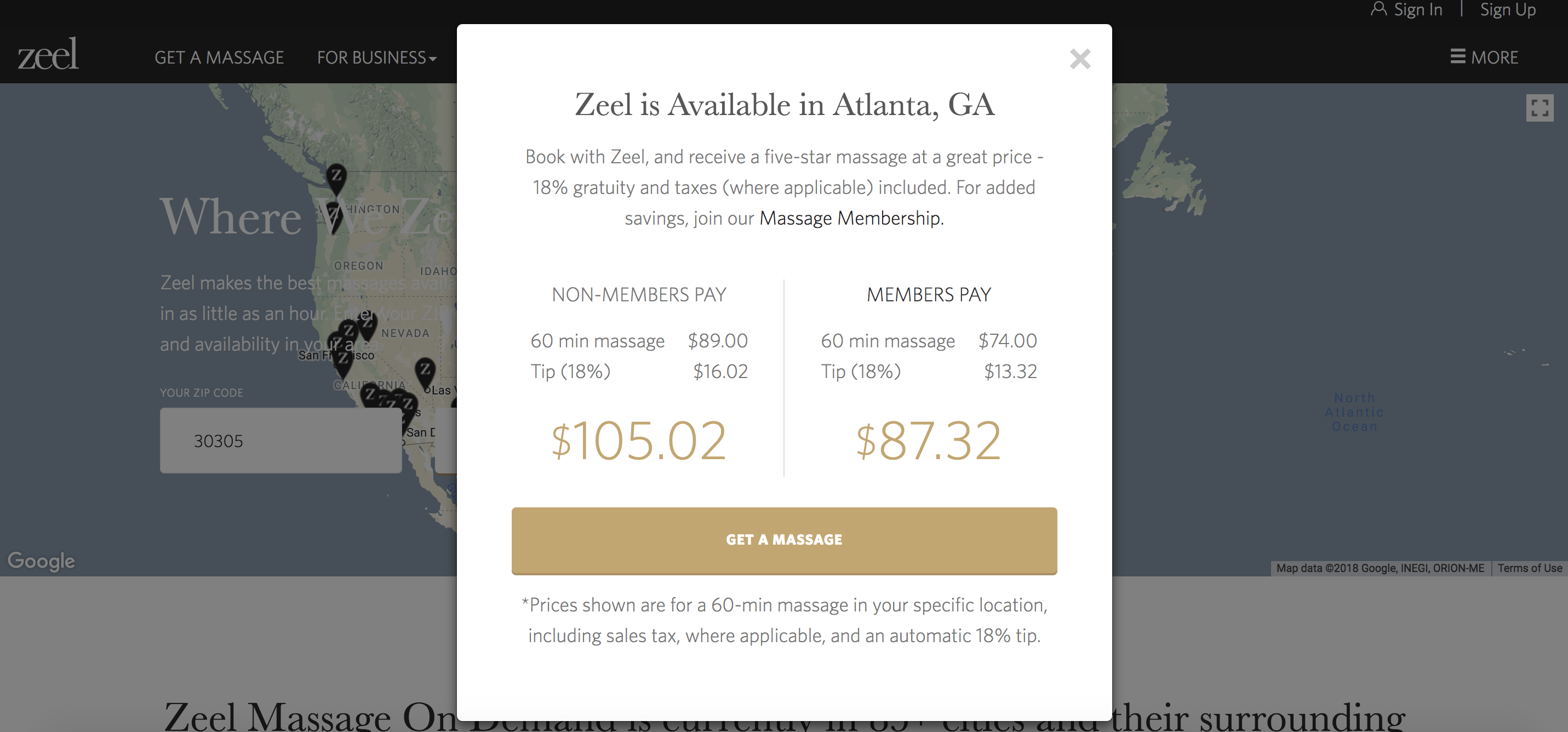 Are there any taxes and fees?
Depending on where you live, there may be a standard sales tax applied to your massage price.
New York City, for example, charges 4.5% sales tax, New Jersey charges 7% tax, and Minneapolis charges 7.8% tax. Meanwhile, places like San Francisco, Houston, Detroit, Denver, Dallas, Chicago, Charleston, Boston, Baltimore, and Atlanta don't charge any taxes.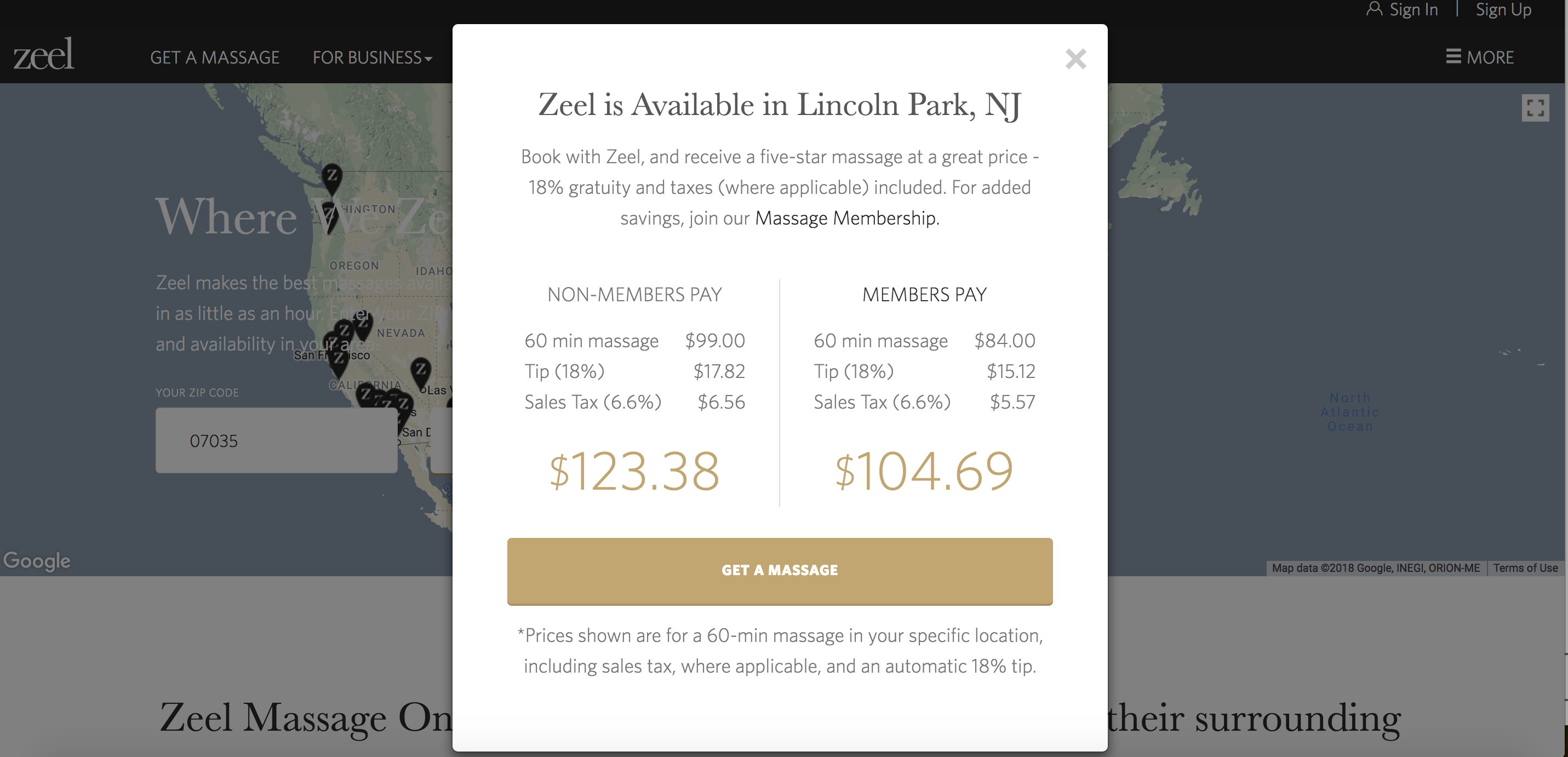 Why is Zeel not the cheapest massage?
There are three reasons why Zeel pricing — while fair and competitive — is not the least expensive in the massage industry.
You get the quality of a top-rated spa conveniently delivered to your door. We pride ourselves in offering the best possible massage experience, with only four- and five-star therapists, every time. You're getting the same quality of a top-rated spa, delivered to your home, in as little as an hour — and it's still less expensive than a leading spa by about 20%–50%.
It's real massage therapy, from a licensed and insured massage therapist. The Zeel Team takes your health and safety very seriously. Sure, you can pay less at a local salon for a "back rub," but it likely won't be a certified and licensed massage therapist like ours.
Therapists in the Zeel network are able to charge and earn more than at spas. Zeel is proud to help therapists leverage its network to be the top compensated therapist around.
How do I pay for a Zeel massage?
Simply link your credit card to your Zeel account, either online or in our iPhone or Android app. Everything is calculated automatically, and your account is charged after you have an amazing massage experience.
You may also use a Zeel gift card to pay for all or part of your massage. You can even pay with accumulated credits from referring your friends to Zeel — that's $20 off your next massage for every friend who books!
Have other questions about Zeel? Visit our Help Center.
*Discount varies on location
Save
Zack Kinslow
Zack is a writer, producer and marketer with 10+ years' experience in the advertising, nonprofit and tech startup industries. He is currently the Education Production Team Lead at Foundr Magazine, a web site for entrepreneurship education and was previously Content Manager at Zeel. Learn more about Zack on LinkedIn.