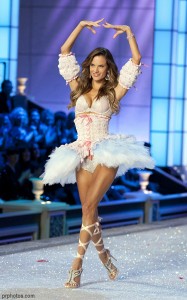 Happy New Year to all. In 2011, we watched a bevy of beautiful (and spotlight-prone!) women, from January Jones and Beyonce to Rachel Zoe and Jessica Alba, as they journeyed through nine months of pregnancy. In some cases, we're still watching.
What is it about celebrity bumps that captivate our attention anyway? Is it the public nature of their growing bellies as these leading ladies are photographed leaving prenatal yoga looking trim and toned? Or maybe it's their ability to remain elegant through the entire ordeal, their rotund midsections sheathed in haute threads and name-brand swag.
As we dive head first into 2012, there's sure to be a whole new splash of A-list women who will become moms for the first, second or even third time. On our radar? Victoria's Secret Angel Alessandra Ambrosio, who recently flaunted the fact that she walked the famous catwalk two months pregnant (um, wow!), glowing mom-to-be Jessica Simpson and reality star Kourtney Kardashian.
But what's critical to remember as we ogle and ooh over these influential women is that, when it comes to our own experiences—those of real women—it's important to maintain a reasonable and moderate mindset. New York City dietitian and Mom Dishes It Out blogger Laura Cipullo encourages pregnant clients to do just that–to focus on self-care and eating a balanced intake of food.
"Pregnancy should be about you and your baby," says Laura, "not about restricting your intake to flaunt the latest vogue, be it crop tops or jeggings below your bump. Because if we aren't careful, pregnancy could become one of the many factors that trigger an eating disorder, which would be an absolute waste of one of the most magical aspects of being a woman." (For inspirational words on the difficulty some women have with accepting their weight gain while pregnant, check out popular mom blog Mamavation here.)
At the end of the day, not everyone can have a five-star macrobiotic chef preparing three gourmet meals a day and a personal trainer to stay fit from start to finish. Most of us, save for Beyonce, can't even get our partner to share a partially vegan dinner, let alone convince them to adopt a disciplined vegan lifestyle for the entire nine month stint.
This year, let's move beyond the often unattainable and unhealthy emulation of celebrity pregnancies. Instead, focus on your pregnancy. Laura, a mom of two, puts it best. Nourish yourself and love your body. "Pregnancy can be one of the most special periods in your life if you embrace it. And if you really don't enjoy being pregnant, that's OK as well. Just make sure you feed yourself appropriately throughout."