This green wake up smoothie will help you forget about that morning breakfast rush! This recipe is perfect for busy parents looking for a healthy breakfast option for the kids or as a great food prep idea for someone planning their morning meals for the week. Loaded with fruit and spinach (you wouldn't even know there's a full cup!), this green smoothie stays sweet with help from yummy honey and a kick of vanilla extract. Watch the video and check out the full recipe and instructions below.
Green Wake Up Smoothie Recipe
Ingredients:
2 cups vanilla almond milk (you could also use coconut or soy milk)
1/2 cup whole oats (fresh or from the canister)
2 bananas (medium to large sized, sliced)
1 1/4 cups fresh pineapple cubes (frozen or canned peaches or mango are OK too)
1 cup ice cubes
1 cup baby spinach (loosely pack the leafy greens when measuring)
1 tablespoon honey
1 teaspoon vanilla extract

Directions:
Put the whole oats and milk in a blender and blend on high for about 15 seconds. Once oat mixture is smooth-ish, add the pineapple (or mango/peaches), bananas, ice, spinach, honey, and vanilla and blend for 45 seconds or until very smooth. If you'd like a chunkier smoothie blend for less time. Serve in glasses or your handy to-go beverage container. Garnish with your favorite fruit like strawberries or extra mango if desired.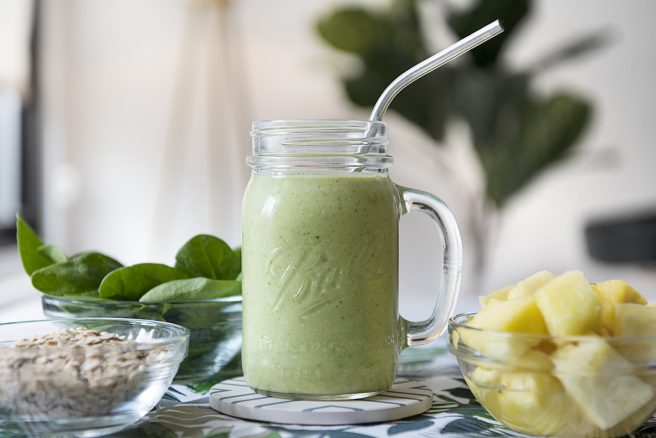 The great thing about this recipe is the ability to swap in/out different fruits and amounts of each ingredient. Looking for something a little less green? Decrease the amount of spinach added and throw in some extra peach or mango chunks!
Did you try out our green wake up smoothie recipe or the Lorna Jane rescue smoothie? Tag us on social media using #ZeelGood and let us know, share your ideas for what other recipes we should give a try!
Chase Hill
Chase Hill is a Social Media Coordinator for Verizon Media. Previously he was the Social Media Manager at Zeel, LittleThings and the New York Daily News. Connect with Chase on LinkedIn.