For better or for worse, I know the negative effects of booze on my skin. Yet why has it sometimes been my go-to when I want to relax or shake off the workday stress? The problem is, drinking alcohol usually leaves me feeling dehydrated and groggy — the opposite of relaxed and refreshed.
This summer, I happily swapped out a glass of wine for Zeel's in-home massage. Flash forward to a rainy fall night, when a few bottles of wine I had oh-so-responsibly left untouched were staring at me. I stared back with a new idea:
I wondered if alcohol could play a role in DIY spa treatments, and still show me some fun?  Can I relax by using booze on the outside instead of the inside? The answer is yes.
Throughout history, external applications of drinking alcohol have gone back to the Middle Ages. (The Czechs swore by beer as hair shampoo and body wash!). I learned from a Shape magazine article that the Four Seasons Spa in Vail, Colorado uses bourbon as an exfoliant. The luscious amber liquid called out to me. So, I thought I would give it a shot, pun intended!
DIY Spa #1: Vintage Bourbon Exfoliant
The Vintage Bourbon Exfoliant has two simple ingredients that, together, make magic:
Kentucky bourbon (or a bourbon of your choice)
Organic brown sugar
This scrub feels a bit grainy on the skin as first. But remember, that rough texture is what is removing dead skin cells from the skin's surface. So the discomfort has value! The harder you scrub, the more powerful the effects.
For added comfort, I warmed the bourbon for a minute in the microwave. This was worthwhile. Just make sure not to microwave the bourbon with the sugar already added in, or else the grains will dissolve, and your exfoliant will no longer serve its purpose.
Try this scrub before waxing or shaving to get better results.
(Side note/Lifehack – this recipe serves a dual purpose. Use half on your skin. Refrigerate the other half in an airtight container to use it again as a base for a glaze or marinade.)
Read more: Is A CBD Massage Right For You?
DIY Spa #2: Sparkling Champagne Facial
Champagne contains tartaric acid which helps balance out discoloration and can brighten your skin. I did not just want to put some champagne on a cotton ball and rub it on my face. To hydrate and soothe, I used some leftover ingredients I had from my breakfast smoothie routine. Here is my less boozy — and more fruity — version of the Sparkling Champagne facial:
Recipe:
½ ripe avocado
½ banana.
¼ cup of champagne (feel free to swap champagne for sparkling wine if you prefer it!)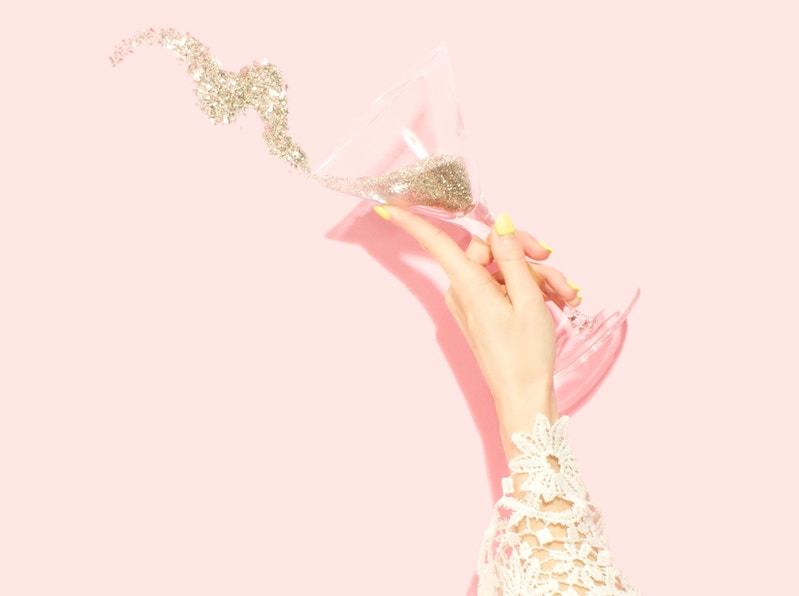 Prep time is less than five minutes. Then, give it 3-5 minutes to soak into your skin. My skin did look brighter, a bit less red, but I should have known to hop back in the shower rather than try to scrub the concoction off with my hand towels. Next time, I am sticking to eating avocados and drinking champagne. I do not think the benefits outweighed the mess. Next time I'm sticking to drinking champagne and eating avocados.
DIY Spa #3: Barely Beer Bath
Saving the best for last for my personal favorite boozy spa treatment.
This centuries-old recipe has been passed down through generations of Czech health-lovers. Still, people are traveling the globe to experience beer spas across Eastern Europe.
At beer spas in the Czech Republic, the marketing materials let me know that barley, hops, and yeast are all kept at a steady 98.6 degrees and continuously bubble to "promote dissolution of ingredients," releasing vitamins, carbohydrates, and proteins. For guests, they combine natural mountain water with 5 liters of light beer and 5 liters of a darker, unfiltered variety all dumped into an oak bathtub. Improved damaged skin cells, improved elasticity, stimulation of the circulatory system, and exfoliation are just a few of the beer benefits. Since I was minus the oak tub and temperature control, I used a beer spa scrub recipe passed down through the ages.
Start by combining the following ingredients in a mixing bowl:
5 oz epsom salt
1 tablespoon olive oil
1 tablespoon of your favorite beer
2-3 drops lemon oil
1 basil leaf
In a warm shower, massage your body in a circular motion. I spent most of my time scrubbing where I had skin impurities: rougher skin on my elbows, knees, and feet. The beer smell definitely was not drowned out by the lemon oil, but my skin absolutely felt smoother and more hydrated. That would not have been the case had I downed the beer instead of drowned in the beer.
Sips and Suds
Lathering up with our favorite booze is a fun and quirky way to refreshing our skin to prep for that Zeel massage. There are so many more left to try as I read about The Gin Spa, Glasgow, Scotland, a Bloody Mary-inspired Ritual in Bali, Indonesia, and Wine Therapy at Sabila Spa, Loreto, Mexico."Olé, Olé, Olé".

Read more: The Benefits of a Full Body Massage
Research-Backed Reasons You Need a Massage for Your Mental Health