Fall is here, and with it, fall wellness challenges. Perhaps you're interested in an intense life change – a 30-day workout routine or vegan challenge. If you're one of those people, then you may be interested in our Sweat Every Day Challenge with Bachelor Chase McNary.
That said, even a small change in your routine can bring noticeable fitness benefits. A great habit to start (or keep) this autumn is walking outside. Incorporating some fitness in your daily life can be as easy as going outside for an after-lunch stroll, walking home in lieu of taking public transit or your car, or getting off the subway one stop sooner and hoofing it a few extra blocks.
Of course, not every city is equally walkable (that's an issue for urban planners). But if you're eager to rack up those 10,000 daily steps on your Fitbit, head to one of America's most walkable cities.
Once you've achieved your daily step count every day this week, reward yourself afterward.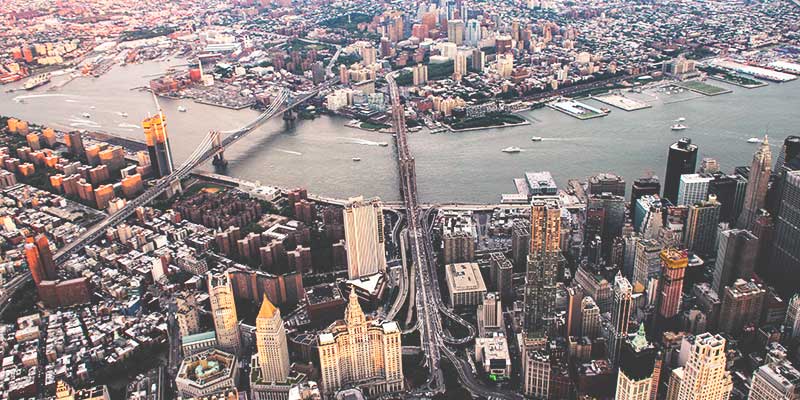 New York City
Virtually the entire island of Manhattan is foot-friendly, and everything is within walking distance. New York City is chock-a-block with shops, restaurants, iconic landmarks, and countless hidden gems to discover. Manhattan is (mostly) on the grid system, so navigating is simple, even for the novice walker. It can also be motivating to count the blocks (20 more! 10 more!) and gradually increase your exercise over time.
If you're motivated by novelty, Manhattan is your place. You can take a different path every day and always experience something new. You'll have plenty of company as you walk. Manhattan is the most pedestrian-friendly place in the United States; over three-quarters of Manhattan inhabitants are car-free.
Our Brooklyn neighbors also boast some of the most walkable neighborhoods in the five boroughs: Park Slope, Boerum Hill, Cobble Hill, DUMBO, Williamsburg, Brooklyn Heights, Carroll Gardens, and the ever-developing Downtown Brooklyn. (No, we will never call it "DoBro.") If you want to take a leisurely walk – perhaps with your Frenchie – BK is the place to be.
Yes, we realize Jersey City is not in New York, despite the best efforts of real estate agents to depict it as "the sixth borough." However, as this NJ suburb continues to expand with countless NYC workers moving there every month, we couldn't resist including it as one of the Tri-State Area's most walkable places. Saunter along the Hudson River waterfront for one of the best views of the World Trade Center or tour along the Liberty Harbor side to feel like you've been transported to New England. Just don't say JC is "the new Brooklyn," lest you want to be disowned.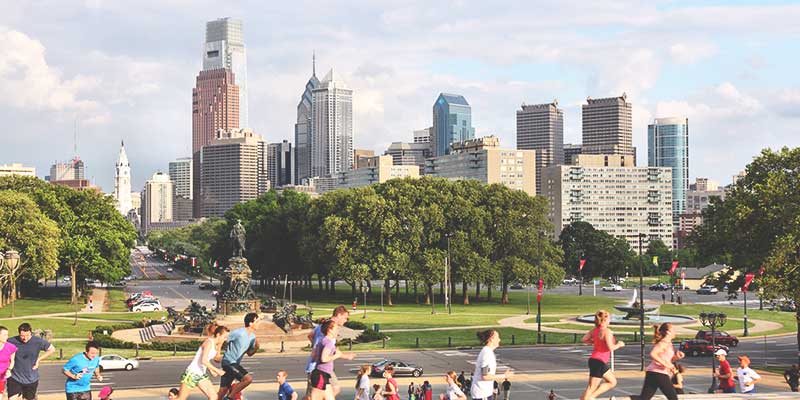 Philadelphia
Philadelphia is one of the most walkable cities in the U.S. according to a recent study. Many of the City of Brotherly Love's attractions are dotted throughout Center City – the Liberty Bell, the Love Park statue, Rittenhouse Square Park – not to mention nearly 100 restaurants and entertainment options per 100,000 residents. That's almost 1,500 things to do and see! If you're feeling valiant, turn your leisurely walk into a Stairmaster by running up the Rocky steps at the Philadelphia Art Museum. (Don't be shy; everyone does it.)
Philly's Old City neighborhood offers some of the greatest American historical hits from grade school,   and even America's oldest residential street, Elfreth's Alley. Explore from the Delaware River to the Schuylkill River in just an afternoon; Philadelphia allows you to traverse all of Center City in under an hour.
If you're under the age of 30 and live in the Greater Philadelphia Area, you're probably all too familiar with the 'Yunk. (If you're over 30, we assume you moved up the hill to Roxborough by now.) College kids, bars, hip shops, Manayunk Brewery, a main street that's actually called Main Street, and – did we mention bars? Manayunk is a very walkable part of the Philly burbs. Meander through the town's tumultuous, hilly side streets and get more than your 10,000 daily step quota just by trekking home from the SEPTA station.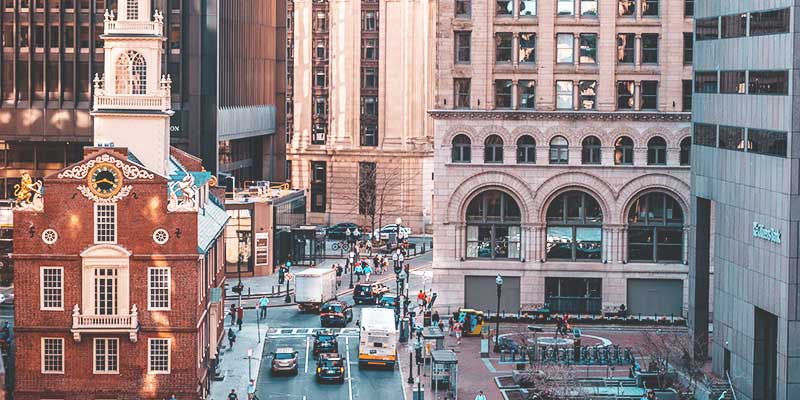 Boston
While Boston's street layout can be confusing, keep in mind that the city was founded in 1630 and designed for pedestrians and horses, not cars, trains, and Google Maps. Beantown remains one of the most pleasantly walkable cities in America. Combining a rich history of tree-lined streets and old brick buildings dating back hundreds of years, a brisk walk through Boston will take your breath away.
A DIY walking tour through Boston's North End can take you from a quintessential New England waterfront, down Hanover Street (considered the "Little Italy" of Boston), and over to Faneuil Hall, a bustling marketplace and outdoor plaza loved by natives and tourists alike. The city is very compact, with a population of only 673,000. You can even walk the Freedom Trail, a 2.5-mile path touching on historically significant buildings and landmarks such as the Paul Revere House.
Another great walking area of Boston is Back Bay. Thrillist says, "The bougie brownstones that line Beacon Street and Commonwealth Avenue are just so damn pretty that you can't help but stop and stare." You'll also want to stop at the famous Boston Public Garden, which some consider a mini version of NYC's Central Park.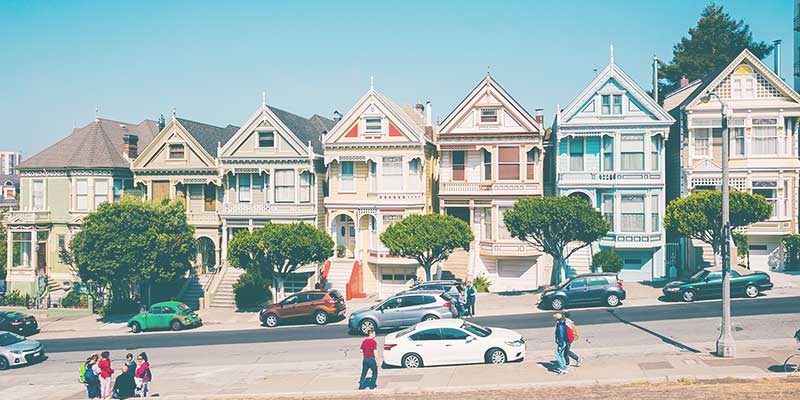 San Francisco
If it's time for leg day, head to San Francisco. You might not expect such a hilly city to be considered walkable – and you'll definitely get quite a calf workout – but San Francisco is a great place to go for a stroll. No matter where you are in SF, you're going to have an amazing view of something – whether it be the Bay, the bridges, the ocean, or the rolling hills in Marina. Even the city's Financial District offers walking (or running) paths like The Embarcadero with beautiful waterfront views and attractions, including the 1898 Ferry Building and its iconic clock tower.
San Francisco might be considered more "hikeable" than walkable, but nevertheless, the city's Mission District a fantastic place to experience what SF has to offer. Tons of restaurants line the streets, And you're just a few blocks away from Mission Dolores Park's green grass, tennis and basketball courts, and designated area to play with your dog. Not to mention, if you're fed up with San Francisco's infamous and ever-changing microclimates, the Mission is known to have the best weather in SF.
The Marina District is arguably one of the most walkable areas of the Bay Area. You can head down to the water for breathtaking views, and even walk across the Golden Gate Bridge (what's more quintessential SF than that?). For ambitious walks in this neighborhood, tackle the famous Filbert Steps – a workout, but one that rewards you with a spectacular views once you've reached the top.
The Presidio is also an ideal place for a stroll. This 1,500-acre park built on a former military post is a top destination for outdoor activities. From its miles of trails to golf courses to forested refuge, you'll almost forget you're in the city. Just make sure you bring the proper footwear – the Marina is home to some of the steepest hills in San Francisco.
There are also great places to walk outside of San Francisco proper; head to the East Bay and hike the Reservoir in Lafayette, or explore the paved pathway in Mill Valley / Sausalito. Even Oakland has some charming farmers markets to amble through, like the one in Jack London Square.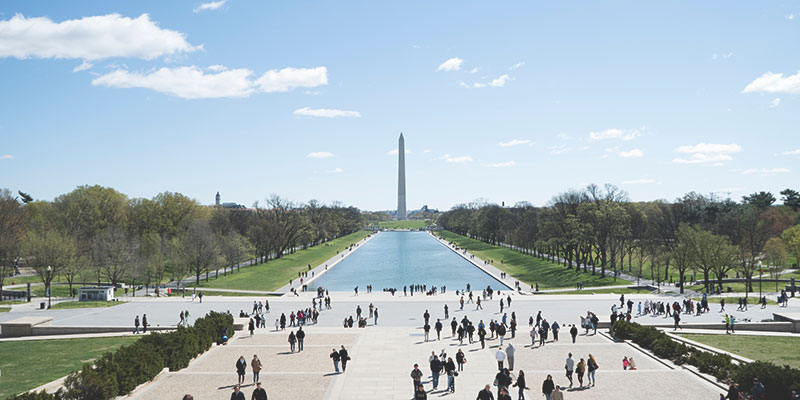 Runners (or Walkers) Up
Zack Kinslow
Zack is a writer, producer and marketer with 10+ years' experience in the advertising, nonprofit and tech startup industries. He is currently the Education Production Team Lead at Foundr Magazine, a web site for entrepreneurship education and was previously Content Manager at Zeel. Learn more about Zack on LinkedIn.