There are some people who do not like to be touched. Or there are people who like to be touched but only very lightly with delicate, gliding strokes that put you to sleep. I am not one of those people.
As a person who has had knots in my shoulders for as long as I can remember, and has only added to the list of ailments over the years—lower back, hip flexors, glutes, thoracic spine, etc—it feels as though the words "deep tissue" have always been part of my vocabulary. I average approximately 6-8 massages a year, and would gladly increase that to 24+ if my insurance covered it (Tip: check and see if your insurance covers "medical massage").
And yet, finding a massage therapist who gets that "hurts so good" feeling for 90% of your one-hour session is extremely hit-or-miss. I spent years searching for someone who would just stick their elbow in my hip joint (thankfully, my fiancé now obliges.) I also found a medical massage therapist whose massage is so intensely painful that it makes me sweat (it makes him sweat too) and laugh from the release of all the toxins. He applauds my threshold for pain.
Within two minutes, my massage was confirmed with Olga.
So when I arranged to have a Zeel massage therapist come to my home, my finger wavered over the "Sports Massage" option in the app for about 5 seconds before tapping on "Deep Tissue." Who was I kidding? Seconds later I received a text thanking me for choosing Zeel and said that they were reaching out to their network and would keep me updated once confirmed. I could also reply to that text with any questions (I'm a big fan of in-text customer service.) Within two minutes, my massage was confirmed with Olga.
Since the massage would take place in my apartment, the text advised that I have "2 sheets and a pillow case ready, and an area at least 6x10ft cleared for the table." I chose my softest sheets that no longer fit my bed since upgrading to a queen, which would set the perfect setting for my at-home massage.
Olga showed up right on time, and began to set up while I changed into a robe. One major piece of advice: If you have a dog (which the Zeel app enables you to select as an option when booking, so that your therapist has a heads up), and if that dog has ever been known to bark, I strongly recommend getting your massage when that dog is not home. My only complaint about the entire experience was that my four-year-old, eight-pound miniature dachshund was the worst behaved and noisiest she has ever been, and I was distracted by, not her noises, but how bad I felt that she was disturbing the relaxing setting that my therapist was working so hard to create.
The massage began with a conversation about particular areas of need—I've sprained a ligament in my lumbar spine several times, so the lower back area and hip flexors are always a priority. Plus I was experiencing menstrual cramps, so my entire lower back was aching. While Olga washed her hands, I removed my robe and got under my super-soft sheets. When she returned she started with an over-the-sheet assessment of areas of tension, focusing slow-but-firm pressure applied to that curvature of the lower back where all the menstrual tension seemed to live. In general, Olga's treatment of this area was stellar, and unlike any massage I can remember. She used her fingers to seemingly spread the muscles vertically, and then returned to the area again and again, with firm, stationary applications of pressure. She also paid special attention to the top of my glutes—as well as the entire gluteal area—where I carry a lot of tension from my back issues.
Release Your Tension – Book Now
Not about to neglect the comically crunchy knots that permanently live on each of my shoulders (but in different locations, of course), Olga worked on releasing the thoracic spine as well as the levator scapula—the muscles that runs from your shoulder up into your neck—which helped to indirectly relax the area, as well as directly applying pressure to the knots to increase blood-flow. She also addressed the soreness in my quads from a two-days-ago leg workout by using her fingers like teeny tiny steamrollers to dispel the built-up lactic acid. Disclaimer: I am not a doctor or a trained massage therapist, just a massage junkie who is obsessed with googling the anatomy of whatever body-part hurts, so please forgive any errors in anatomical descriptions.
At the end of the massage, my hurts didn't hurt, I felt supremely relaxed, and my dog had finally shut up. It was exactly the 90% hurt-so-good/10% relaxation balance that I was looking for, and I neither sweat nor laughed. I would put the massage in the top 10% of my 35-years of experience getting massages, and I would definitely prioritize Olga for my future Zeel massages.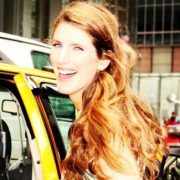 Lauren Bernstein
Lauren Bernstein is a writer, editor and brand expert with 13 years of experience covering fashion, beauty, travel, and lifestyle. The first 10 years of her career were spent working in the fashion and beauty departments of Harper's Bazaar, Glamour and Hamptons magazines. Her work has also appeared in Town & Country, Bloomberg Businessweek, Departures and other titles. In the past three years, Bernstein has shifted her focus to product-driven content serving as the Vice President, Editorial Content at Macy's, and before that, as Senior Editor of Branded Content for HarpersBazaar.com and MarieClaire.com. Learn more about Lauren at laurenabernstein.com and on LinkedIn.