The glory of greens—it's simple, but it works! With a rise in plant-based clean eating, because, well, it feels good to eat healthy chefs around the country are getting super creative in the kitchen. We rounded up some of our favorite food establishments that are chopping, searing, grilling, and sautéing the best vegetarian dishes, that even carnivores will love. The biggest question? Which plant-based restaurant to try first!
Elizabeth's Gone Raw, Washington DC 

DC's answer to elegant, refined, and downright delicious raw food

—Elizabeth's Gone Raw. The hot spot which has been described as a plant-based "experience" is only open Friday and Saturday nights. Expert your supper to start with a seasonal cocktail that resembles a works of art like their Sakura Salute cocktail, a sake concoction with real cherry blossoms and get your Instagram account ready to snap a photo of their downright gorgeous dishes like the Almond "ricotta" radish roll with avocado curd, pickled tail-pod radish, watercress puree, buttermilk sauce and "chorizo" powder.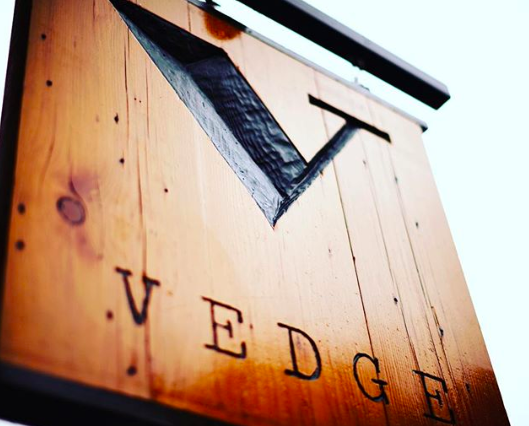 Where the posh plant-based fans nosh on veggie concoctions—Vedge has been one of Philly's hottest reservations since it's opening in 2011. Opened by James Beard nominated chefs (and husband and wife team), Rich Landau and Kate Jacoby, the Center City establishment serves creative cocktails like the Cava Cake a refreshing mix of St. Germain, carrot, and bubbles and an over-the-top delicious seasonal veggie menu with options like Salt Roasted Gold Beet with za'atar everything spice, black garlic tahini, farro tabbouleh and Asparagus Carbonara with
smoked trumpet mushrooms, fregola. The best part? It is open 7 days a week so you can get your upscale veggie fix whenever your palate desires.
3. Spiral Diner and Bakery, Dallas, Texas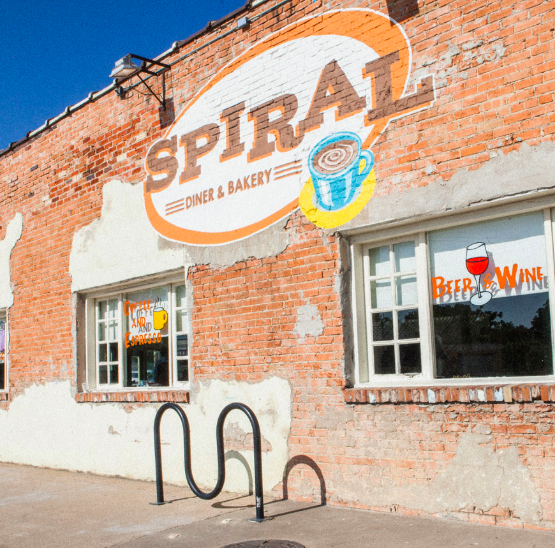 Vegan comfort food from the Lone Star State. If you're looking for a healthy splurge, look no further than Spiral Diner and Bakery. Dig in to tasty spicy buffalo chick'n nachos (made with spicy buffalo soy chick'n strips) or if your sweet tooth hits you, their maple bourbon pecan I- Scream.
4. The Butcher's Daughter, New York City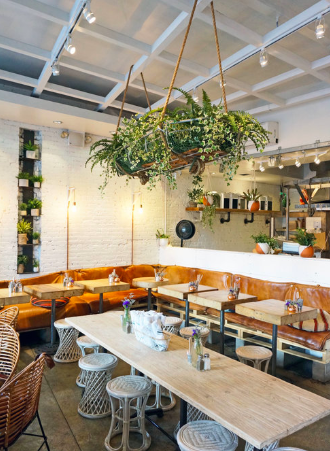 Where New Yorkers go to get their 100% vegetarian on. The Butcher's Daughter a.k.a The Vegetable Slaughterhouse offers vegan cuisine for breakfast, lunch, dinner, and weekend brunch in four fresh, bright, "content worthy" locations. With an "eat with the season" philosophy, expect a changing menu with standards like their fresh heritage juices (we love the Honey Bee a blend of grapefruit, turmeric, yuzu, kumquat, pear, honey, and bee pollen) and cauliflower pizza  (topped with fresh seasonal vegetables)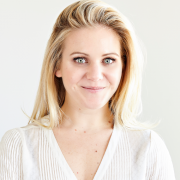 Micaela English
Micaela English started her career in magazines at Lucky magazine, Men's Health and Women's Health. She then went on to spend six years working at TOWN & COUNTRY, first on the print staff and then helping the brand launch its digital footprint online as its senior web editor. Her work has appeared in Well+Good, Instyle, Architectural Digest and Marie Claire. Visit her web site at micaelaenglish.com and her profile on LinkedIn.