Our bodies are designed to move, but this year especially, many of us are leading largely sedentary lives. Eighty percent of adults do not meet the key guidelines for both aerobic and muscle building physical movement. That much inadequate physical activity translates to roughly $117 billion in annual health care costs and about 10 percent of premature mortality. Instead of embracing the "Netflix and chill" movement, let's move for 30 minutes!
The 30 minutes, five days a week idea comes from federal guidelines, which suggest 150 minutes of moderate-intensity aerobic activity per week for optimal health. Thirty minutes a day lowers your risk of heart disease, stroke, type 2 diabetes, high blood pressure, dementia and Alzheimer's, obesity, several types of cancer, and some complications of pregnancy. 2021 bonus: It'll make your immune system far more resistant to COVID-19 infection.
The American Health Association also lists better sleep, improved cognition, fewer symptoms of depression and anxiety, and better overall quality of life as big health wins—all of which come hand in hand with a more active daily life.
So Let's Get Moving
Everyday chores – Those dreary chores now have a new purpose. Add intensity to your chores and you'll burn calories away. The calorie counts depend on individual physiology and intensity level, but (for example) vacuuming burns roughly 50-100 calories and scrubbing the bathroom, 90-150 calories. Outdoor chores such as mowing the lawn, gardening, and pressure-washing are also great ways to burn calories.
Massage – There are negative health consequences to sitting all day, including low-back pain, poor posture, and stiff muscles and joints. Even people who stand all day have a tendency to lean on one specific leg or hip. Counteract the sedentary work life with a massage to loosen tense muscles, reinforce your body's natural alignment, and increase your blood circulation.
Stairs – You don't need a stair master, just access to a set of stairs—parking, office, apartment buildings all have them! Climbing stairs is one of the absolute best exercises to burn fat, strengthen the lower body, and tone muscles (calves, thighs, buttocks, tummy). The body burns approximately 235 calories in 30 minutes of stair-climbing.
Dance – Let your hair down, turn up your favorite music (any genre will do), and just move! Eight songs will get you to your 30 minutes, so pick your favorite playlist, and the minutes will fly by. The average person will burn 150–400 calories in that time. Plus, on top of the excellent cardiovascular benefits, multiple studies have shown that dancing also has powerful psychological benefits—lifting mood and improving cognitive health in the short and long term.
What's Next?
After a few weeks of conquering your 30 minutes of movement, try a different form of movement. Is there a bike or jump rope collecting dust in your garage or attic? If you prefer walking, add intervals of speed walking. Once you feel comfortable climbing stairs, add speed to maximize results. Consider adding a few moderate to high-intensity muscle strengthening activity such as pushups, sit-ups, and squats. If you want to get more creative, download an app for free exercise routines.
If score-keeping motivates you, you can use the American Council on Exercise calculator to track your calorie-burning counts.
Note: If you have a chronic condition or disability, speak to your healthcare provider about what physical activities are right for you.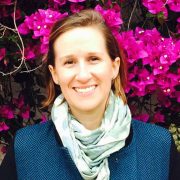 Lola Thelin
Lola has served as an editor for a variety of luxury lifestyle magazines in South Florida and began her career as a copy editor for The Miami Herald. She holds a master's in print journalism. Now she multitasks her new role as a mother with her role as a freelance writer.