Image credit: Cody Guilfoyle
Here at Zeel, we believe that how you start and end your day affects your overall well-being, and your unique rituals are a fascinating, intimate peek into your life. So we're catching up with some of our favorite leaders in the fitness, beauty and other cool industries to learn about their AM/PM Routines—and a lot of real life wisdom along the way.
Brooke Danielson started her career running through the fashionable halls of Condé Nast—she's held editorial positions at GLAMOUR and Vogue—but these days her running takes place more on the Hudson River promenade or dirt trails in upstate New York. But the one thing the six-time marathon runner, stylist and brand consultant is not running towards? Perfection. Her Instagram feed as much homemade cashew mylk recipes (Brooke is passionately plant-based), as it is her daily glass of red wine—and her 11,000+ followers appreciate that about her.

Brooke gave us an inside look into how she finds balance during the very first, and very last, hours of her day: 
AM:
Zeel: What time does your day start on a typical weekday? 
Brooke Danielson: I wake up around 5:30AM, naturally, every morning. I do set an alarm for 6AM just in case, but my body clock is pretty strict on its own. Sleep is incredibly important to me for many reasons, so I do my best to get 8-9 hours each night. As of late, I have run into some sleep issues but I am working on getting it back to normal.
Z: What does the first 15 minutes of your morning look like?
BD: First things first, I drink water. I keep filtered water next to my bed and it is the first thing I reach for. I'll get up and fix a French press of organic espresso, then I meditate for 5-7 minutes while it steeps. I'm the ultimate multi-tasker, so I tend to have a few things going at once, but for the purpose of efficiency. After meditation I listen to NPR news while I drink coffee. Beyond the 15 minutes I take time to journal. I love to read back and see the progress I have made in life.
"Give yourself permission, permission to relax, permission to listen to your gut and have constant conversations with yourself."
Z: What is the most essential part of your morning routine? 
BD: Meditation and my time drinking coffee and listening to the news. It's my time just to be and my time before I step out into the real world of responsibility and chaos.
Z: Does this routine vary depending on whether you're training for or recovering from a marathon?
BD: Absolutely! Training mornings can start as early as 4:45AM. When training I have to log longer miles on the weekends, and when I go to [Nike] run club I am up and out the door by 6:15AM most Thursdays. It takes commitment and major dedication. 
During recovery time I try to sleep in as late as 7, 8 or 9AM. Although the 9AM rarely happens. I like to sleep and really force myself to relax—maybe get up and go for a long walk, grab an espresso, and take in an art show, or read the paper at a local coffee shop. The recovery process is a time for my body to heal and I take that seriously by treating myself to slower non-active mornings.
Z: What do you eat for breakfast?
BD: Depending on my training routine, breakfast varies. On a long run morning I have a bowl of oatmeal with berry coulis (I make one with lemon juice that's quite divine). If not oatmeal, then I have a piece of sunflower bread with homemade almond butter, mashed banana and sprinkle that with chia seeds and ground flaxseed. On lighter workout mornings, I have a berry smoothie loaded with spinach and blended with coconut water. At the moment I am really into a big bowl of organic berries topped with homemade almond butter.
Z: What time of day do you exercise?
BD: Mostly early morning, 7-9AM. When I am not running, I like to take The Class by Taryn Toomey. I'm making a greater effort to take yoga once a week at Lyons Den. 
Z: What do you do to prep for or recover from a workout? 
BD: I drink a lot of espresso! I also do some muscle activations and warm up with lunges, squats, stretching, etc… Depending on how hard the workout is I always stretch and foam roll. I like to take epsom salt baths and get weekly massages. 
Z: Did your routine change when you were training for your first Ultra?
BD: 100% the more miles I logged, the more fatigued my mind and body became. I had to carve out more time for massages, baths and icing. I wanted to nap a lot, which I tend to avoid, but my body just wanted to sleep after hauling 18-26 miles.
"You can almost always find me in the kitchen after 6pm with a glass of red wine, whipping up something plant-based." 
PM:
Z: What time are you usually "off-duty?" 
BD: I am off-duty by 6 at the latest. I love to cook, so you can almost always find me in the kitchen after 6PM with a glass of red wine, whipping up something plant-based. One of my favorite vegan cookbooks is The Plantpower Way: Italia by Julie Piatt and Rich Roll.
Z: What's the first thing you do when you walk in the door?
BD: Put in my headphones. I love music and podcasts, and they keep me happy amongst the chaos of the concrete jungle. 
Z: How do you unwind or decompress from the day?
BD: Usually a cup of tea or a glass of red wine, and listening to jazz or classic rock while I cook. I'm happiest in the kitchen, creating. I wish I had more people to cook for and the space to entertain. I'm maternal by nature and always want to take care of people. I show this through cooking!
Z: What do you usually do for dinner on a weeknight?
BD: I make a big kale salad loaded with herbs and chopped raw veggies, always. I usually dress it with homemade tahini dressing or a light vinaigrette. I make everything from scratch, so there is a lot of love and preparation that go into my meals. If I want something warm and hearty, I'll make a soup or a Banza pasta with veggies.  
Z: What is your nighttime ritual?
BD: Nighttime is sacred to me. I put on my diffuser with lavender essential oil and get into bed with a book. I sometimes fall asleep to podcasts, but I'm trying to keep all electronics away from my bed. 
Z: How does self-care play a part of your day?
BD: Self-care is vital to my day. I always make sure to take time for a face mask or a long walk up the Hudson River. Whatever the indulgence, I do one thing a day for myself. 
Z: What is the greatest piece of health/wellness advice you've ever received? 
BD: Give yourself permission, permission to relax, permission to listen to your gut and have constant conversations with yourself—like daily affirmations.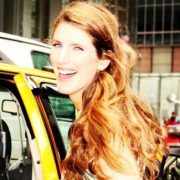 Lauren Bernstein
Lauren Bernstein is a writer, editor and brand expert with 13 years of experience covering fashion, beauty, travel, and lifestyle. The first 10 years of her career were spent working in the fashion and beauty departments of Harper's Bazaar, Glamour and Hamptons magazines. Her work has also appeared in Town & Country, Bloomberg Businessweek, Departures and other titles. In the past three years, Bernstein has shifted her focus to product-driven content serving as the Vice President, Editorial Content at Macy's, and before that, as Senior Editor of Branded Content for HarpersBazaar.com and MarieClaire.com. Learn more about Lauren at laurenabernstein.com and on LinkedIn.