When exactly are you supposed to get a massage? Whether you're a professional triathlete or an amateur gym rat, at some point you've experienced muscle soreness so intense that you flinch on contact. You've also probably accumulated some chronic muscle fatigue or regular ailments—back, shoulder, hip, IT-band—that hurt-so-good under the magic touch of a massage therapist. And while it feels great to treat tired muscles after an intense workout or a race, there are also enormous benefits to getting a massage before a big event—and even making it a regular part of your training routine.
We talked to two Ironman athletes, who both happen to be big massage fans, but for different reasons:
THE SIDE EFFECTS OF TRAINING:
If you're not a multi-marathon-runner-turned-triathlete, you may be asking, what exactly is an Ironman? For starters, the toughness implied by the name is entirely justified: An Ironman is a long-distance triathlon race consisting of a 2.4-mile swim, a 112-mile bicycle ride, and a marathon 26.22-mile run. It is generally considered one of the most challenging one-day sporting events in the world, more than quadrupling the distance of an Olympic-level triathlon (which is 31.93 miles) at a whopping total of 140.6 miles. So ultimately it is for competitive athletes who are seemingly superhuman.
But it turns out that these impressive athletes are not in fact invincible, and training for such a herculean effort is a challenge in itself, both mentally and physically: "Going to the pool and swimming for 1,500 yards versus going to the pool and swimming for 3,000 yards is a lot of extra laps just staring down at a lane in the bottom without really having much else to think about," Cory Wieber, who is training for his second full-distance Ironman this November, explains of the psychological component. And as for the physical, it's a full-body feat: "After a really long swim, my shoulders and back will be a little tight; My legs get tight after a run, and in general your feet are sore from pounding pavement; And my calves and my quads will feel pretty sore the day after a particularly long bike ride, especially if I don't keep up with nutrition and hydration and have some cramping issues," adds Wieber.
Jennifer Gottschalk, a former collegiate swimmer who recently competed in the Ironman 70.3 World Championships and will be racing in her first full-length Ironman in November, has learned how important it is to carefully taper (pulling back on your workouts to let your body recover and rebuild energy) before a big race. "My exhaustion levels and hormones get insane, my cortisol levels get way higher than they should be to unhealthy levels," Gottschalk describes of the effect on her body after some failed tapers during her competitive swimming days. "It is an interesting balance."
The Proactive Approach
So how do Ironman athletes take care of themselves? "Maintain a regular massage schedule during training," says Melanie Peddle, a Zeel massage therapist who is also a triathlete and counts several Ironman competitors as clients. "Training puts lots of stress on your body and taking care of recovery is just as important as putting in the miles—smart and thoughtful recovery allows your training to be effective."   
Many competitors, like Gottschalk, have a proactive approach to recovery, combining recovery equipment with yoga and massage: "I try to get into the Recovery Room at my husband's CrossFit gym a couple times a week, which is amazing," she raves. "They have Rapid Reboot compression boots, HyperVolt percussion massage guns, Compex muscle stimulater pads, vibrating foam rollers, and vibrating massage balls to put under pressure points." Gottschalk adds yoga to help keep her body loose, using YouTube videos recommended by her coach that target hip strengthening or opening, back pain, core strength, or other acute areas in need. And she counts massage as a key method in preparing her for race condition. "My coach told me I should be getting massages every other week, which in an ideal world, I [would do throughout] all of this training," she says. "Before every half-marathon I've ever done, I try to get a massage or two." And while some might be surprised by the idea of getting a massage before a race, Gottschalk says, "I actually prefer it leading up—of course, it's going to feel good afterwards, but if I had to choose one or the other, I would always get a massage leading in." 
According to Peddle, massage during training helps to maintain much-needed range of motion in your joints, keeping your body in optimal shape for performance. "Complete and symmetrical range of motion in the shoulder joints is especially crucial for the swim and swim training," she advises. "Restriction-free range of motion in the hips is also important for the bike and run, [because] if your hips have restricted range of motion, you will end up taking more steps or pedal strokes, or compensating."
"It's going to help me run better if I get [a massage] before," adds Gottschalk. "It'll actually prepare me physically."
The Reactive Approach
That's not to say that massage following a major athletic event isn't also beneficial. In fact, Zeel has partnered with Ironman to provide post-race massages to competitors, which athletes like Wieber have found to be instrumental in their recovery. "It can make a difference, whereas otherwise I'd be limping the next day, to being able to walk normally the next day," says Wieber.
But Wieber, who has recurring back pain, admits that he tends to seek treatment only when the pain has already begun. "Unfortunately, instead of being proactive with recovery I'm kind of reactive, which is something I need to be better about," he admits. "I will try to stretch some days if I'm feeling a little tight, or I'll hit some spots with a foam roller if they're feeling particularly sore." However he has found massage to be helpful in treating back spasms, particularly if they flare up before a big race: "The night before I did my first Half-Ironman, the 70.3 Augusta, I tweaked my back a little bit pulling bikes out of the car after a 7-hour drive to get up there," he recalls. "The next day I had a Sports Massage at the Expo where they focused on stretching out my back to loosen things up so I would be good to go to race the next day."
Since most athletes spend multiple hours traveling, whether by car or by plane, to compete in Ironman races, arriving a few days early and allowing your body to loosen up after sitting for an extended period of time is essential. For future races, Wieber says he would set up a massage for once he arrives at the race destination "to loosen up after being in the truck all day, or the day before the race to again, try to loosen up the muscles a little bit before I go out and race."
The Expedited Recovery
It's no surprise that athletes who attempt a 140.6-mile triathlon use other races as part of their training and are constantly trying to juggle recovery from one event with preparation for another. "After [the Half-Ironman in] Augusta, I'll have five weeks between that race and Ironman Florida," says Wieber. "Normally after 70.3 I would take a week or two off from training to really recover my body, but I won't have that option: I'll do the 70.3 on Sunday and then on Tuesday morning I'll have to be up at 5:30 to go run 6 miles again." Gottschalk has also had a year of back-to-back competitions, and participated in a swim race the week after competing in the Half-Ironman World Championships in France. Which is when massage becomes the saving grace. "After completing an Ironman, a massage can help speed the recovery process," says Peddle. "Passively addressing muscle recovery through massage is a time-proven and effective technique," which allows athletes who don't have the luxury of giving their bodies time to recover, to speed up the recovery process and get back into training.
The Different Types of Massage
With such a variety of massage techniques and styles, it can be difficult to determine exactly what your body needs when, whether your muscles are aching with built-up lactic acid or you are proactively trying to prevent injury. We asked Peddle to break it down:
During Training:

Maintain a regular massage schedule during training. If early in the training cycle, you could probably benefit from

Deep Tissue Massage

. But that can be too much for the body to handle as your training load increases—within 4-6 weeks, stick to

Swedish Massage

or

Sports Massage

, which can help maintain your range of motion with stretches or targeted massage techniques.

During the Taper: "

Getting a massage during the taper, before your event, can be a great way to get your mind ready, which is the most valuable asset during the race," says Peddle. "Having a clear head allows for logical and tactical decisions during your race, but more importantly, fast transitions—the fourth discipline in the triathlon, and the easiest place to cut time."  Peddle recommends a Sports Massage, but you should let your therapist know in how many days you are competing, as the type of massage will be affected. Ideally, get the massage 3-7 days before the event.  

The Night Before a Race:

"It's normal to have pre-race jitters, and not sleep pretty much at all," says Wieber. "I've had that happen a few times." A

Sleep Massage

, which combines relaxing techniques like reflexology, scalp massage, face and neck massage, and back massage, can help calm your body and mind, and promote a deeper, more restorative rest. 

Immediately After a Race:

If your body is in acute pain, or immediately after an event (up to 48 hours), stick with a Swedish Massage to release muscle tension via more soothing techniques.

48-Hours to 1 Week After: Opt for a Deep Tissue Massage once your body is no longer tender, but just has nagging aches, and to help speed up recovery.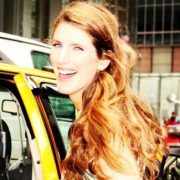 Lauren Bernstein
Lauren Bernstein is a writer, editor and brand expert with 13 years of experience covering fashion, beauty, travel, and lifestyle. The first 10 years of her career were spent working in the fashion and beauty departments of Harper's Bazaar, Glamour and Hamptons magazines. Her work has also appeared in Town & Country, Bloomberg Businessweek, Departures and other titles. In the past three years, Bernstein has shifted her focus to product-driven content serving as the Vice President, Editorial Content at Macy's, and before that, as Senior Editor of Branded Content for HarpersBazaar.com and MarieClaire.com. Learn more about Lauren at laurenabernstein.com and on LinkedIn.