Posted on: August 30, 2011
By: MarcyAtZeel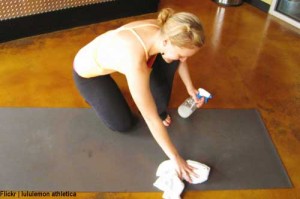 Does your yoga mat have that not-so-fresh feeling (or smell)? Here's how to get your mat squeaky clean in time for your next class.
Looks like skinny ladies Giuliana Rancic and LeAnn Rimes are butting heads. Giuliana thinks LeAnn needs to put on some weight, while LeAnn points out that Giuliana herself has been critiqued for being too thin.
Pregnant January Jones is apparently going to keep doing yoga until she's in the delivery room (and she might not even stop then, who knows).
Avoid injuries and get a better workout by choosing the right sneakers. Remember, function over form!
If you're a cubicle warrior, your cushy desk job is probably making you put on weight. Here's how to fight the good fight against fat at the office.
What do you think about public displays of yoga in unexpected places? Check out this video of guerilla subway yoga and decide.
Posted in: Uncategorized