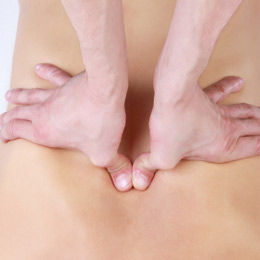 Don't get us wrong. Spas serve their purpose too, at least, when it comes to primping and pampering. But as many Zeel Experts can tell you, massage isn't just a "luxury"; in fact, more and more, it's taking on a central role in preventative health care.
For the pregnant mom in search of prenatal relief; the musician with arthritis; or the athlete with a strained muscle, booking an appointment with a massage therapist serves a far greater purpose than the chance to "relax and unwind." Sure, massage does that. It also, however, offers the opportunity for its recipients to significantly improve the quality of their lives too.
As you can imagine, with the prevalence of spas and luxury venues, finding a truly dedicated, independent massage therapist can be a real challenge. We talk to Dallas-based licensed massage therapist Rogelio Medina to learn more about the value of a qualified bodyworker —and how to find the right one for you.
What is the value of working with a qualified, fully licensed massage therapist?
A licensed massage therapist has completed educational hours and passed a state licensure exam. They follow a strict standard of clinical practice, ethics and professional competencies as set forth by the therapist's national organization. In my experience, I have seen individuals with no such requirements who may lack understanding of the therapeutic approach, which could harm the client if not facilitated in a clinically trained manner.
What are the qualities that make a bodyworker qualified?
Finding a bodyworker who is trained in the specific needs of the client is important. The best Rolfer in the world will probably not satisfy someone looking for a Swedish massage (and vice versa). Likewise, someone who is only trained in Swedish massage will be totally unsatisfactory to an athlete who is training for a marathon. Matching the training of the therapist to the needs of the client is what requires the most attention.
What qualities does a member of the OMTP possess?
Our members use our site as a resource to find other organizations and associations. Our members spend time researching which organizations and associations are a right for them. The time in researching demonstrates the therapist's commitment to the profession and to their clients. Our professional members come from other organizations and associations; they bring with them experience and a code of ethics and standards.
What questions might a consumer ask themselves when looking for a massage therapist that suits their needs?
Am I tense and looking for a relaxing spa type of massage to enhance relaxation?
Am I injured and in need of a medical type of massage that addresses particular issues?
Am I more comfortable with a therapist of the same gender or the opposite gender?
Do I want to find an independent massage therapist, or is a chain business ok?
What is the goal of receiving my massage or what is the expected outcome of the massage? (Massage therapists differ in many ways from one to the next, each with their own specialty. A consumer will have to match their expected outcome with a therapist who is qualified to give such a massage.)
Are the therapist's rates and work hours presented within my budget and availability? (Clients should have an idea of what is affordable to them. Therapists work many different hours from one to the next, and clients should think up a dream schedule of when they would like to receive their massage. They can then seek a therapist within those guidelines.)
Stacy Goodman
Stacy Goodman is an award-winning digital marketer and currently the Director of Digital Marketing & eCommerce for Night Shift Brewing. Previously, she was the Head of Content for Curalate and Content & Social Media Editor for Zeel.