Posted on: October 23, 2012
By: StacyAtZeel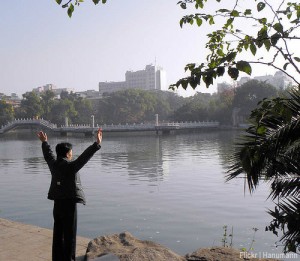 The following blog post was contributed by Zeel Acupuncture Expert Alma Myers, LAc.

If Acupuncture Seems Scary, Pin Cushion Alternatives Exist
Fear not. Acupuncture is only one of many treatment options offered by licensed acupuncturists; many don't use needles.
In California, you can receive bodywork in tandem to physical rehabilitation or sports medicine, nutritional health counseling, herbal medicine supplementation, energy-work and breathing techniques as well as general lifestyle counseling on the proper ways to eat, sleep and rest.
Care and self-care can come in many forms, and in certain cases, needleless might be better suited to help you meet your health and wellness "acu-" goals, while avoiding any "-puncture."
Let's Get Physical
Tui Na. Touch is an important part of care and evaluation. Tui na (pronounced: twee-nah; meaning "grasping and pulling"), physical medicine and orthopedic rehabilitation consist of bodywork, manipulations and massage techniques that brush, knead, roll, press and rub on channels, acupressure points and muscles.
Fire Cupping. Fire cupping techniques can create hickeys on the back or affected muscle to reduce pain and relieve skin conditions, Bell's palsy and cold or flu symptoms. Burning moxibusion warms the body to relieve pain, promote circulation and aid digestion and pregnancy. Skin scraping cools the body from heat stroke, fever or pain with a soup spoon, horn scraper or a common coin.
Basic Movements. Acupuncturists teach many techniques to increase range of motion and conditioning with assisted and guided stretches, movements and exercises like yoga, qi gong and tai chi. Other cardio and weight bearing activities and techniques can be taught and structured to assist in fitness, rehabilitation, weight loss, strength, conditioning, relaxation, circulation and reduction of pain or discomfort from both medical and orthopedic ailments.
Alma Myers founded Los Angeles Mobile Acupuncture, a CAM medical concierge group, in 2010 to restore patient driven care. As a physician, he delivers acupuncture, bodywork, exercise, herbal medicine, nutrition and meditation based care. For more information, checkout www.lamobileacu.com/ or follow Alma at twitter.com/lamobileacu or facebook.com/lamobileacugroup.
Posted in: Healing & Relaxation, Pain Management & Relief, The Zeel Blog
Tags: acupuncture, alternative therapies, complementary and alternative medicine, complementary therapies, cupping, exercise, health and wellness, Traditional Chinese Medicine, tui-na, Zeel Expert