Sports massages aren't just for pro athletes. But pro athletes sure do love their massages — and quite a few NFL football players have shared their love of Zeel.
There's a good reason athletes love sport massages. A sports massage combines techniques from deep tissue massage with assisted stretching methods, intended to prevent injury and promote flexibility among athletes.
Just think about all the wear and tear an athlete's body goes through (especially after 16 consecutive weeks of gridiron battle). A sports massage is not just for enjoyment and relaxation after a big game. It's crucial for preventative wellness and maintenance, assisting players with their ability to bounce back after a painful match.
The key benefits of sports massage:
Increased flexibility and range of motion
Decreased fatigue during and after athletic activity
Fewer sports-related injuries
Improved endurance
Overall preparedness for the body and mind before the event
Injury recovery after the event
Whether you're a professional athlete, an avid runner or cyclist, or are part of a weekly rec league for basketball, kickball, or baseball with your coworkers, taking care of your body should be a top priority. Sports massages are also advantageous when training for a big race, to help prevent pulled muscles and cramping.
Whatever your sport of choice may be, you can tell your Massage Therapist through our mobile app (or in-person) if you have a game-related injury or a particular muscle group that needs focus. They can cater the sports massage to your physical needs.
More and more athletes are turning to Zeel for sports massages delivered to their homes or hotel rooms on a regular basis.
But don't take our word for it. Here are some of the NFL's finest who are fans of Zeel's in-home sports massage service.
Got a massage from @GetZeel and it was great this. Massage on demand they come to you and bring table and all! Sign me up! @GetZeel

— Sylvester Williams (@Sylwil92) August 25, 2017
"Thank you to my wonderful massage therapist from @getzeel … it's a great app. Massages come to you wherever you are!"
  –Richard Sherman, Seattle Seahawks Cornerback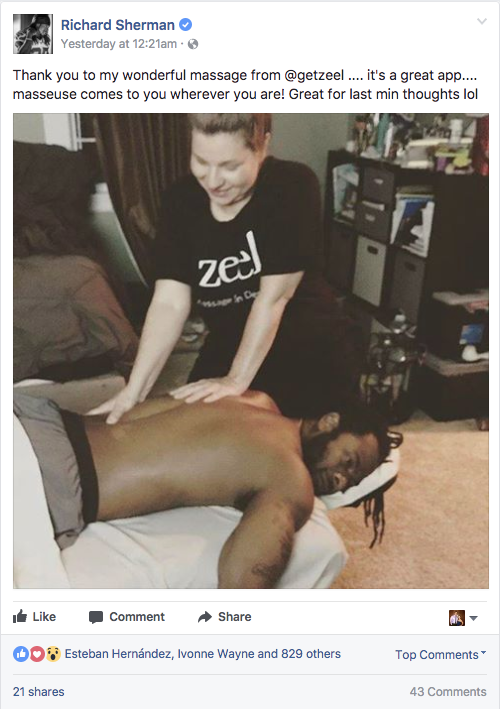 "Post workout recovery. In-home sports massage from Zeel."
  –Matthew Judon, Baltimore Ravens Linebacker
"Recovering at home with an in home massage from Zeel."
  –Andrew Adams, New York Giants Safety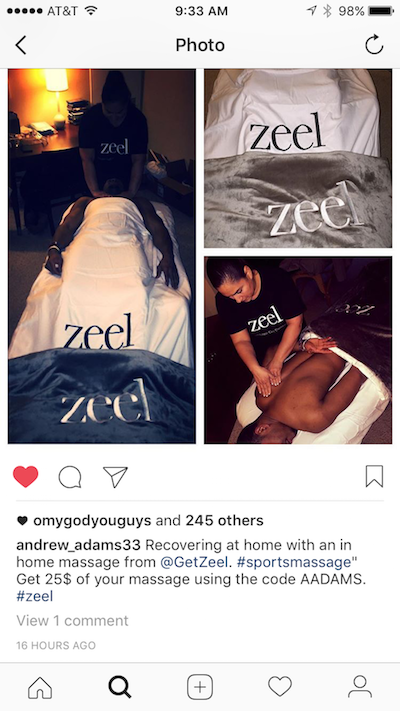 "Zeel is clutch."
  –Lamar Miller, Houston Texans Running Back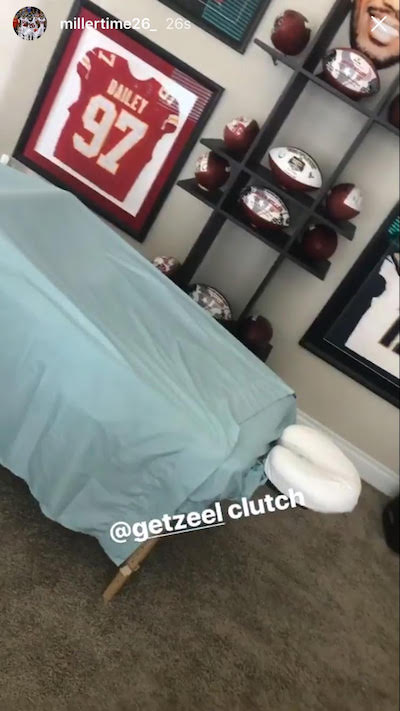 "Taking care of my body on off days is essential. I like to use @getzeel when I'm doing my recovery."
  –Jermaine Kearse, New York Jets Wide Receiver
"Massage time!! Thanks to @getzeel #getyourMassageWithZeel!" 
— Sammie Coates, Houston Texas Wide Reciever
Zack Kinslow
Zack is a writer, producer and marketer with 10+ years' experience in the advertising, nonprofit and tech startup industries. He is currently the Education Production Team Lead at Foundr Magazine, a web site for entrepreneurship education and was previously Content Manager at Zeel. Learn more about Zack on LinkedIn.