Here at Zeel, we are firm believers in consistent body massage which helps with everything from pain relief to digestion to a better night of sleep. But what if you could de-puff, tone, and glowify another part of your body that needs an extra dose of TLC? Yes, facial massage, the trend and topic that Instagram can't seem to quit at the moment. However, when wellness concepts go into trend territory, it makes us wonder (and pause before buying a gua sha in the shape of butterfly wings.) In a digital world where an Instagram post can cause a wellness concept to go viral and spur a whole slew of new products on the market, is facial massage just another passing fad?
We put on our investigative hats and talked to two master Zeel massage therapists, Karen Kochanski and Amanda Joy Berman to get to the truth about facial massage.
What are the benefits of facial massage?
"Facial massage not only induces an overall body relaxation but it can also reduce the onset of wrinkles by stimulating the production of collagen (the stuff that keeps skin nice and firm) in our cells," says Berman. Facial massage can also potentially help with toning your face and possibly even making it more symmetrical. "Pesky habits such as sleeping on one side, chewing on the other, and those deep thoughts to boot can cause asymmetry in the face. It's amazing what a daily massage routine targeting these muscles can do for tone, balance, and beauty," notes Kochanski. Facial massage can also help with other issues, "Increased blood flow is a tremendous benefit of facial massage that can help decrease the frequency and intensity of headaches and TMJ issues," explains Berman.
Can a facial massage actually de-puff my face?
There's nothing worse than face bloat after a night of pizza or too many martinis (for tips on fighting body inflammation, read here). However, a facial massage can help drain out your toxins and fluids and depuff your face quite rapidly. "A massage that stimulates the lymphatic system (the body's sewer system) helps rid you of any unwanted swelling and puffiness after that salty binge or fun night out on the town. Unlike the circulatory system, the lymphatic system has no pump, so we need massage to jump start the process," says Kochanski.
What is the best time of day to massage my face?
You can reap in the rewards of a facial massage any time! In the morning, "Start with a simple face washing routine. Begin by applying a cleanser of your choice with an ever-so-slightly firm pressure with your fingertips when lathering up your face (circular motions are best). Follow that with an application of face cream in a similar circular fingertip fashion," says Berman. When you're in the office, feeling tense after you're morning meetings, and ready for a wellness rescue, "Mid-day calls for tension release. Gently apply pressure to your temples with those same fingertips to melt the mid-day stress away," says Berman. At night, before unwinding for bed, "perform the same techniques applied earlier in your morning face routine, using nighttime products of your choice. This prepares both the body and mind for a restful night of sleep and relaxation," explains Berman.
 Any favorite facial tools that I should start to incorporate in my routine?
While both of our experts agreed that your hands are your best massage accessory, Karen Kochanski also loves the facial tool used in traditional chinese medicine, the gua sha. "There are many different gua shas, varying in shapes and sizes and it is an amazing technique for flushing out stagnant lymph and promoting a natural blush. It also helps to trigger acupressure points around the hairline and face," says Kochanski. If the thought of learning how to gua sha (here's a video on how to use the tool) intimidates you, try a jade roller, "It is a gentler tool and great at working any products into the skin," says Kochanski.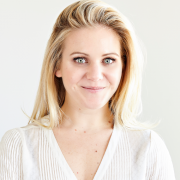 Micaela English
Micaela English started her career in magazines at Lucky magazine, Men's Health and Women's Health. She then went on to spend six years working at TOWN & COUNTRY, first on the print staff and then helping the brand launch its digital footprint online as its senior web editor. Her work has appeared in Well+Good, Instyle, Architectural Digest and Marie Claire. Visit her web site at micaelaenglish.com and her profile on LinkedIn.