Posted on: December 26, 2011
By: StacyAtZeel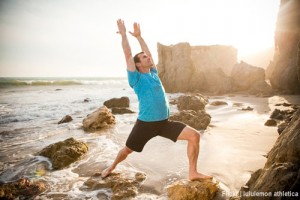 When Vicki Vara, a personal trainer and trusted Zeel Expert, officially released the v.method, she decided to launch it with the motto "because you can." Why? Because it's true. You can. A fitness trainer, an avid runner and swimmer and, most importantly, a mom of two, Vicki is proof that everyone can find time when it comes to their health.
Think you're too busy to set a New Year's resolution? Not this year! New Years offers the perfect opportunity to re-prioritize and commit to making small changes for a healthier lifestyle as you plan for 2012. All it takes is a bit of dedication and a few handy cues from Vicki—a modern day superwoman.
1. Set realistic, measurable goals. Saying that you're going to get healthy doesn't necessarily mean you will. Instead, set realistic goals that you can progressively work toward over the next 12 months. Lose 10 pounds, try a vegetarian lifestyle, drop a dress size; the choice is yours, so pick your goal and give it all you've got!
2. Track your progress. Give yourself a time frame in which you want to accomplish your goals, and then set checkpoints along the way to track them. Say, for example, that you want to lose 12 pounds by April 1st. Great! That's about three pounds per month or less than one pound a week, which sounds much more attainable than 12 big ones. Pick a day each week to step on the scale to track your progress. Committing to your checkpoints will help to hold yourself accountable and keep you on track.
3. Schedule is key! As a busy, working mom, Vicki schedules all of her workouts and meals for the week on Sunday as if they were important business meetings. She preps and cooks as many meals as she can in advance, and determines the best times to squeeze a workout in almost every day. That way, she knows what meals she'll be cooking and which workouts to prepare for before even getting out of bed in the morning.
4. Share your plan. It doesn't matter who you tell–your spouse, a friend or a colleague. But it's important to recruit someone to be your official motivator to hold you accountable for your decisions and to compliment and quantify your progress along the way. Better yet, have them participate with you!
5. Keep your eye on the prize. Chocolate and couches will always be there to tempt you along the way. When the sofa calls your name at the end of a long day, remind yourself of your goals and simply choose something healthier, like carrots and cardio, instead! Remember the objectives you've committed to. As Vicki always says, "There has never been a workout I have regretted, but have many regrets about ignoring my alarm for an early morning workout!"
For personalized fitness instruction and guidance, book an appointment with Vicki on Zeel.
Posted in: Ask the Expert, Fitness & Personal Training, Nutrition & Diet, The Zeel Blog
Tags: fitness, nutrition, weight loss