Porcelain Veneers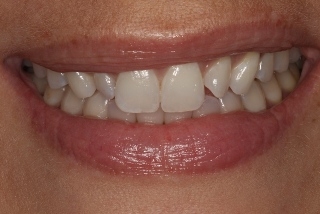 Before Porcelain Veneers
Photo taken before porcelain veneers. Congenitally misshapen laterals. Undersized and peg shaped.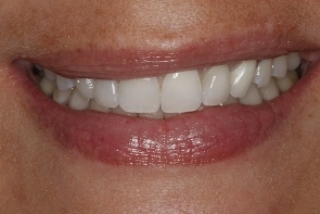 After Porcelain Veneers
Photo taken after porcelain veneers.
This lovely lady came in for her initial visit with questions about her smile. She was somewhat bothered by the appearance of her small teeth and wondered what her options were. After a comprehensive exam and cosmetic consult, it was determined by Dr. Seay and the patient that the best, most aesthetically pleasing treatment would be to veneer the canine and lateral on either side of her front teeth, four veneers in total, and do a gum lift in these areas. However once treatment began, in the spirit of conservatism, only the lateral incisors were veneered with the thought that the canines could be done at a later time if the patient so chose. In most cosmetic cases it is best to complete the veneers or crowns at the same time as they are made together in the same lab, by the same technician, with the same materials so the color match between them is perfect. For this reason, Dr. Seay had the lab create and send prepless veneers for the canines in addition to the lateral veneers in case she and the patient decided that her case would look better with four veneers versus two. Prepless veneers are used in cases where the tooth does not have to be altered, or prepped, before the restoration is placed. We all think her smile looks beautiful so have made no plans to place the veneers on the canines.
This before-and-after picture was provided by the practice of Dr. Seay in Mount Pleasant, SC
View all photos from Dr. Seay.