Posted on: May 8, 2012
By: StacyAtZeel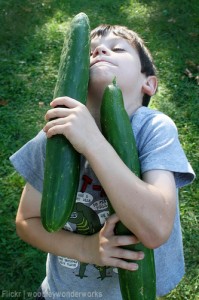 Even the busiest of moms find simple, sneaky ways to stay healthy between packing brown bag lunches and tucking the kids into bed. This Mother's Day, why not take the opportunity to get the entire family involved?
"Depending on the age of your child and their interests, there are a few options," says Zeel Expert and Smarter Bodies co-founder Kim-Lien Kendall. "One is cooking a healthy meal with your child or baking a healthy snack."
While there are many indoor activities that can be arranged, from blending up delicious green smoothies for breakfast to making a vegan carrot cake for dessert, Kim and V-Method founder Vicki Vara also encourage families to take advantage of this year's unseasonably warm temperatures. Bring your baked goods to the park, for example. Have a picnic; fly a kite.
Another great way to cultivate healthy habits in the great outdoors: plant flowers or, better yet, a garden. "Gardening is a great activity the whole family can get involved in," says Vicki. She recommends starting simple with tomatoes, cucumbers and green beans, as these grow quickly and abundantly. "Herbs are also a great beginner plant and will teach your family how to flavor foods naturally," Vicki adds. "Assign everyone a responsibility, and work together for a gift you can enjoy all summer long."
After an afternoon in the garden, pre-plan a short, fun hike. Vicki suggests finding a family-friendly trail, ripe with great, green scenery and an open area to spread out a blanket and a healthy snack.
What's on the menu? "Start with packing a healthy meal of grilled chicken wraps, fruit kabobs and veggies with individually packed hummus," says Vicki. "Put some homemade trail mix in a bag and bake a finger friendly dessert. Throw them into a backpack with some water, and hit the trails."
But perhaps the most important lesson of the day is the one we're all most guilty of forgetting. Vicki reminds us: "Make sure you take your camera to capture your special day!"
Posted in: Nutrition & Diet, The Zeel Blog
Tags: alternative therapies, complementary therapies, exercise, health and wellness, nutrition, Zeel Expert