Posted on: June 1, 2011
By: StacyAtZeel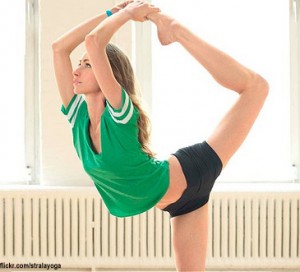 You don't have to be an A-lister to work out like one. Hollywood's hottest trainers are constantly dishing out pointers via webisodes and YouTube clips to introduce anyone who hasn't walked a red carpet to the exercises of the rich and famous. (Just check out P90X mastermind Tony Horton and his late-night videos.)
Now all that's left is choosing the right celebrity trainer to help you meet your personal fitness goals.
You've heard their names: Tracy Anderson, Tara Stiles and Valerie Waters. (Let's not forget about Khloe Kardashian's rendezvous with famed and flamboyant fitness guru Richard Simmons either.) These three reputable personal trainers are responsible for keeping our favorite celebs trim and toned. Now, get to know their workouts.
Tracy Anderson: Slender, muscular and committed
Known as: The pint-sized dancer. Metamorphosis, Anderson's DVDs for body transformation, is meant to completely change your build. Many of the workouts draw on dance-inspired movements and can be performed either standing or while seated on a mat, using no more than three-pound weights (if any at all).
Philosophy: Everyone can achieve a "teeny tiny dancer's body," even if you're built as a linebacker. Go ahead; fight what your mamma gave you.
Celebrity clients: Anderson is best known for Gwyneth Paltrow's no-longer-saggy butt and Madonna's arms circa 2009. Her growing list of clients also includes Penelope Cruz, Nicole Richie, Sarah Jessica Parker, Shakira and cougar Courteney Cox.
Tara Stiles: Long, lean and very laid back
Known as: The yoga rebel, and, as dubbed by Vanity Fair, "the coolest instructor ever." Stiles emphasizes the athletic elements of the otherwise meditative practice. In fact, yoga is all you need to create a flattering figure. "You can definitely lose weight if you're doing an athletic-style like Ashtanga or vinyasa," she said in an interview with Elle magazine. "The poses keep your body healthy while working all the muscles."
Philosophy: For Stiles, yogic poses are an extension of everyday life. Work your way through a difficult position, and you can work your way through anything.
Celebrity clients: Twenty-four-year-old fashion model Brooklyn Decker keeps her Sports Illustrated swimsuit edition-body bikini-ready through regular yoga practice with Stiles. She even teamed up with the downtown yogi and Elle to create a workout DVD.
Valerie Waters: Strong and fit, but not obsessed
Known as: The body transformation expert. Valerie Waters creates workouts for strong-willed and hardworking individuals—think no resting between movements. If you want to build muscle tone, then Waters recommends trading your treadmill for circuit strength-training.
In her newest video, "I Want My Bikini Body," many of the movements are performed in the weight room. Expect lots of squats using equipment like resistance straps and modified (aka more challenging) planks.
Philosophy: "Lift, sweat, stretch, hydrate, smile, repeat." Despite her hard exterior though, Waters insists on rest and relaxation too. "I am a real person that believes in eating clean and exercising and then going to the movies and eating popcorn."
Celebrity clients: Jessica Biel and Jennifer Garner are two of Waters' top tier clients. Both of these extremely fit ladies are known for their chiseled muscles and svelte frames.
Posted in: Fitness & Personal Training, The Zeel Blog
Tags: celebrity fitness, celebrity trainers, celebrity workouts, personal training