Posted on: August 12, 2011
By: StacyAtZeel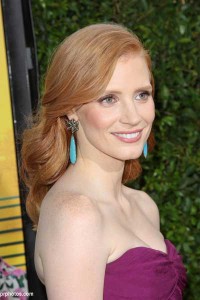 Gaining 15 pounds is no fun for any woman, especially if you're actress Jessica Chastain and you're a strict vegan. Jessica talks about her weight gain for her new flick The Help.
In the grand Lululemon/Athleta smackdown, are you Team Athleta? Then you will be happy to know that 50 Athleta stores will open in the U.S. by 2013.
Is tanning literally addictive? Scientists now think tanning affects the brain, making you want more, more, more! Get a spray tan instead and leave your noggin unaltered.
How should you discreetly remove a wedgie? Must you chat with acquaintances while stark naked in the locker room? Your gym etiquette questions are answered here.
If you're thinking about taking your first ashtanga yoga class, learn about what to expect from your time on the mat.
Lifting weights is great for your health. And a new study shows that it may also help smokers get over their tobacco addiction.
Posted in: Uncategorized