Posted on: May 20, 2011
By: StacyAtZeel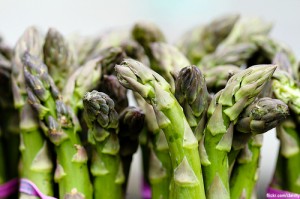 Heading to the farmer's market this weekend? If you answered yes, then super! Buying local doesn't just help out our farmers; it also has tremendous health benefits.
Besides toting your own shopping bag (made from organic hemp, naturally), you'll also want to bring along our valuable tips for selecting in-season produce (find out what's in season in your part of the country here). After all, spring and summer crops yield delicious fruits and vegetables that can do wonders for your body.
Asparagus
Prime time to get it: Now through early June
Calories: 20 calories in 5.3 ounces, or less than four calories per spear (yes, really!)
Health benefits: It's reputed as an aphrodisiac, but the real reason why we love asparagus extends beyond the bedroom walls. Five ounces of these verdant spears contain more than half of a day's worth of folic acid—a must for women who are pregnant or who are planning to conceive.
Asparagus also contains high levels of potassium, fiber, vitamin C and an amino acid known as asparagine. A natural diuretic, asparagine reduces bloating by increasing urination and releasing excess salts in the body—an added perk if you're off to the beach for Memorial Day.
Broccoli
Prime time to get it: Now through Christmas
Calories: A five-inch stalk has roughly 11 calories
Health Benefits: Get this: Just one ounce of broccoli has more vitamin C than an orange, as much calcium as a glass of milk, and three times more fiber than a slice of wheat bran bread. It's also a vitamin A powerhouse. Researchers at Johns Hopkins University School of Medicine found that broccoli contains a substance that prompts the body to produce its own cancer-fighting chemicals.
Strawberries
Prime time to get it: Early to late June
Calories: 40 to 50 calories per cup
Health benefits: Strawberries are one of the best sources of antioxidants, which are a primary defense mechanism against cellular damage. One cup of fresh strawberries is ripe with more than 100 percent of your daily dose of vitamin C. Both good for your heart and your waistline, organic strawberries have a higher vitamin C count, so they're definitely worth the splurge.
Cherries
Prime time to get it: Late June only (so get 'em while they're hot!)
Calories: One cup of cherries has a mere 52 calories
Health benefits: When it comes to your heart, cherries are a miracle-fruit. Whether tender and sweet or crunchy and tart, cherries are packed with vitamin C, potassium and boron (which aids in bone health for women). Cherries also control inflammation, keeping heart disease, arthritis and obesity in check.
Cherries can even provide similar—or better—pain relief than aspirin. According to research presented at the American College of Sports Medicine conference, tart cherry juice can reduce post-exercise discomfort for long-distance runners.
Peaches
Prime time to get it: Late July to early September
Calories: A large peach contains 60 to 70 calories
Health benefits: Made of 80 percent water, peaches provide a great alternative way to stay hydrated on sweltering summer days. The fuzzy fruits are also loaded with fiber (essential for your digestion) and beta-carotene (important for healthy retinas and a strong immune system).
A word of advice: Eat the skin, skip the pit and enjoy it raw. Peaches lose 80 percent of their nutrients when cooked.
Posted in: Nutrition & Diet, The Zeel Blog
Tags: diet, diets, folic acid, vitamin B, vitamin c, weight loss