Posted on: July 9, 2012
By: StacyAtZeel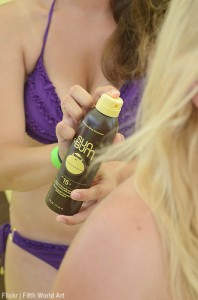 The following article was contributed by Zeel Skincare Expert Barbara Lynn Cantone, President of Body & Soul Restorations, Inc.
Like lazy beach days and corn on the cob, sunscreen is a summer essential. But, as anyone who's ever perused the aisles at their neighborhood pharmacy knows, picking a decent sunscreen can be a confusing and frustrating process!
So many brands. So many ingredients. So many large words staring back at you from the shelves! All of a sudden, the fun of preparing for a little time in the sun is, well, no day at the beach at all!
To help make the process a bit easier, consider these three important elements the next time you're faced with the task of picking out sunscreen.
1. Broad Spectrum Coverage
Look for a sunscreen that will give you both UVA and UVB coverage. UVA rays can cause premature aging, wrinkles and skin cancer. Their partners in crime—UVB rays—can result in burns and cancer too, however.
UVB rays are a serious concern. The American Cancer Society reports that melanoma (the most serious type of skin cancer that can be triggered by sun exposure) will account for more than 75,000 cases of skin cancer in 2012 alone.
That said, be sure to seek out sunscreen that has a SPF (Sun Protection Factor) of 15 or higher for incidental sun exposure (going to work, driving the kids to soccer practice, etc.) and 30 or higher if you are going to be outside for longer periods of time.
But wait! That's not all. Keep in mind that the SPF rating only takes UVB rays into account, so take a minute to scan the ingredient list and make sure that the product contains an overall total of 4 to 5 percent zinc oxide, titanium dioxide and/or avobenzone (parsol 1789/butyl methoxydibenzoylmethane). Now you're covered.
2. What Do You Need?
Sunscreen is a personal care product. That means you should take it, well, very personally.
Is your skin oily or acne-prone? If so, look for an oil-free product that is non-comedogenic (meaning it won't clog your pores). I love Paula's Choice Extra Care Non Greasy Sunscreen SPF 45 or Dermalogica's Oil Free Matte SPF 30.
Suffer from rosacea or super sensitive skin? Sunscreens that contain only zinc oxide and/or titanium oxide as the active ingredients are your best bet. They create a physical (rather than a chemical) barrier, which make them non-irritating. Again, I recommend Paula's Choice Pure Mineral Sunscreen SPF 15 or Dermalogica's Super Sensitive Shield SPF 30.
Swimmer, cyclist or simply a sweat-er? Then you need a water-resistant sunscreen that you will be comfortable reapplying frequently. My husband is an avid cyclist and has been using Banana Boat Ultra Defense Sunscreen SPF 30 and Hawaiian Tropic Sheer Touch Sunscreen SPF 30 for years. Better yet, that signature coconut scent makes him smell a whole lot better after six hours on the road. Most definitely a win-win situation.
3. Expiration Date
The active ingredients in sunscreen can break down over time and become ineffective. That means last year's sunscreen needs to go in the trash (along with many other goodies in your bathroom cabinets that don't last forever). Don't make the mistake of finding out after a day in the sun, and check the expiration date on the bottle before you hand over your credit card.
Hopefully, these tips will help you find what you need; because as we all know, the only thing worse than picking a so-so sunscreen is picking no sunscreen at all.
Happy summer!
Posted in: Ask the Expert, The Zeel Blog
Tags: dry skin, health and wellness, skincare, sunblock, sunburn, sunscreen, Zeel Expert