Posted on: August 19, 2011
By: StacyAtZeel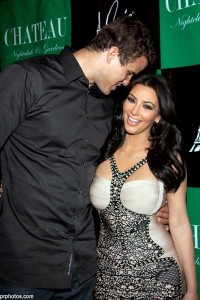 Here comes komes the bride! In what's rumored to be the biggest wedding extravaganza of the year (this side of the Atlantic), Kim Kardashian's wedding day is finally here. And while this curvaceous fashion mogul has always been an advocate of exercise and maintaining a healthy diet, Kim has been more determined than ever to slim down for the big day. The goal: to slip with ease into her size 2 Vera Wang gown—no sucking in necessary. Any bride-to-be can sympathize.
How can you get Kim's wedding day body? Besides lugging around a massive 20.5-carat engagement ring, the petite reality star made these 10 small changes to her typical diet and exercise routine. With a little luck, she'll have perfected her famous derrière by the time she says "I do."
1. Tweak your current workout routine. Kim has been working out with celebrity trainer Gunnar Peterson for three years and counting. They've sped up her normal exercise routine over the last few months, meeting as many as five days a week for ultra-fast-paced workouts.
2. Work out with a buddy. Spotted: Kim taking a jog alongside model pal Heidi Klum in New York City's Battery Park. Exercising with a friend is a great way to get motivated, push your limits, and catch up on gossip.
3. Don't fear the bread basket. Carbohydrates are OK to consume—in moderation. Carbs are your primary source of energy, and eating the right ones (like whole grains and fresh carbohydrates from fruit and vegetables) can actually nourish your body. Just avoid complex carbs later in the day.
4. Burn baby, burn! High intensity cardio intervals strengthened Kim's glutes, shoulders, quads, obliques, abs and hips. Peterson made sure to incorporate plenty of cardio intervals in between squats and lunges.
5. Melt with a massage. Reward yourself with a massage to relieve soreness you may be feeling from increased workouts. A deep tissue massage can help to relieve muscle pain while also releasing endorphins—a natural mood enhancer.
6. Wake up, work out, repeat. Kim works out first thing in the morning. As Peterson explains, early workouts leave no time for distractions and make it harder to back out. Plus, a pre-noon gym session makes room for round two: the optional second workout of the day.
7. Squeeze in a second workout. Don't worry. That doesn't mean hitting your local Equinox twice daily. Your second workout can be as ambitious as a 30-minute run or as short as a 10-minute equipment-free exercise DVD. TRX trainers—portable resistance straps—enhance a quickie workout session while on the go.
8. Dip lightly, please. Never one to drastically limit her diet (she was, after all, seen munching on fast food with t-minus 10 days to go), Kim would be wise to cut back on unnecessary sauces, dips, dressings and marinades that pack extra calories into a meal.
9. Switch it up. Though she's loyal to Peterson, Kim also enlisted the help of celebrity trainer Tracy Anderson. Anderson's strict method limits its devoted followers to a 1,200 calorie diet of green juices, broth-based soups and protein bars.
10. Avoid the scale! As Peterson told Women's Health magazine, "I don't keep a scale in the gym because that number shouldn't dictate your mood or your work ethic." A bride should look and feel her best on her wedding day at any weight, and Kim is no exception.
Congratulations, Kim!
Posted in: Fitness & Personal Training, Healing & Relaxation, Nutrition & Diet, The Zeel Blog
Tags: celebrity beauty, celebrity diets, celebrity fitness, celebrity trainers, celebrity workouts, weight loss