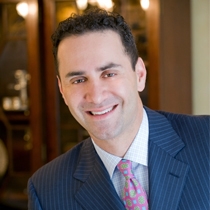 Elie L.
Plastic Surgeon "MD"
Melding classical and cutting edge methods of cosmetic restoration, Dr. Levine approaches each clients aesthetic needs in a unique and personalized fashion. Everyones face is shaped differently, explains Dr. Levine, And each patient requires a specific combination of treatments to ensure natural-looking results.
After graduating from Columbia College with a 4.0 GPA, Dr. Levine attended Yale Medical School, where he earned high honors and began dating his future wife—Dr. Jody Alpert Levine—with whom he now shares his medical practice.
The duo's Upper East Side surgical suite is fully equipped with state-of-the-art technology. A truly impressive facility, the welcoming space features multiple exam rooms, an operating room, a sizable (and friendly!) staff, a medi-spa, a recovery room, and for the frequent high-profile visitor, a private entrance, waiting area and exit out the back. In case you were concerned, theres no need to don big black sunglasses here; privacy and total discretion are taken with utmost gravity at the Levine practice.
---