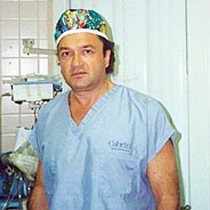 George L.
Plastic Surgeon "MD"
Women come to Dr. George Lefkovits for his coveted Brazilian Butt Fill. The board certified plastic surgeon, now in his third decade of private practice, has been creating shapely, feminine behinds with this procedure for more than 10 years.
Taking fat from the patient's abdomen, arms or thighs, Dr. Lefkovits inserts the fat into the buttocks. "Your own material feels soft—it's what it should be," he says.
In addition to treating patients with injectibles and lasers, the doctor also has many requests for procedures like "mommy makeovers," especially from patients who first came to him for rhinoplasties or other procedures years before.
It's not just women who flock to the doctor's elegant Upper East Side townhouse, though. A large number of male patients also seek out Dr. Lefkovits's services. One reason men trust him: his practice, Park Plaza Plastic Surgery, maintains certain hours just for male clientele so that they can feel most comfortable. Dr. Lefkovits's office also contains an accredited operating room, which means most surgeries are performed right in the office.
Dr. Lefkovits, who has extensive surgical training, puts his experience at the service of his patients, performing only procedures that he knows to be safe and effective. While some patients may request certain procedures because of a current fashion trend, balance always remains Dr. Lefkovits's top priority. "Regardless of what the fashion may be today or tomorrow, the body still has to be proportionate," he says. "So however the fashion changes, the body will be ready for it."
"I try to teach my patients that they need to have realistic expectations from the outcome of surgery, and that results vary from patient to patient," he says. "I also stress the desire to try to achieve a natural result."
In addition to his private practice, Dr. Lefkovits also sees patients at Lenox Hill Hospital and the Manhattan Eye, Ear & Throat Hospital. A fitness enthusiast, Dr. Lefkovits loves to play tennis and golf. A longtime New Yorker, he is also an avid fan of the Yankees and the Knicks.
---
Certifications
American Board of Plastic Surgery