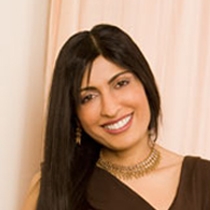 Hema S.
Dermatologist "MD, FAAD"
Known from Capitol Hill to Bethesda, MD as Washington, D.C.'s go-to skin doctor, Dr. Sundaram began her training in Cambridge, England before taking a residency at The University of Chicago and later a prominent role at the National Institutes of Health. The board-certified dermatologist specializes in cosmetic surgery and the treatment of all hair, skin and nail conditions.
Dr. Sundaram practices what she preaches. In some ways, she takes an Eastern approach to cosmetic dermatology, looking for a patient's motivations for wanting a procedure before offering to treat her or him. This honest approach to an inherently sensitive subject has drawn men and women to her practice from around the globe.
An avid biker, this mother of two also practices vedantic studies and Indian classical singing. Her book, The Truth About Beauty—and a Guilt Free Guide to Finding It, was honored by the National Press Club. She is a frequent contributor to local and national television and takes pride in sharing her East-meets-West formula for cosmetic medicine with patients worldwide.
---
Certifications
American Board of Dermatology