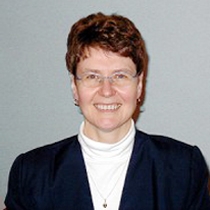 Catherine S.
Other Wellness Practitioner "LMT"
Licensed massage therapist and certified CranioSacral therapist Cathy Schneider has over 14 years of experience as a practitioner. She is certified to teach 6 and 12 CEU classes as an instructor for the International Upledger Institute for CranioSacral Therapy.
"CranioSacral Therapy is exceptionally effective and extremely safe," says Cathy. "The body's healing wisdom determines the course of treatment."
CranioSacral Therapy can help to relieve a full spectrum of pain, illness and dysfunction, including migraines, central nervous system disorders, fibromyalgia, PTSD and more. Because the therapy is performed with the client fully clothed, it is less intimidating than many traditional massage modalities. "Clients often comment on the comfort of the treatment table and the relaxing environment," Cathy says.
In addition to CranioSacral Therapy, Cathy also holds a master's degree in theology. She has led several retreats and given talks on a variety of topics in spirituality and personal development, and enjoys being a spiritual guide for those wishing this service.
"I love my work! It is so rewarding to see people heal, even after many years of pain" Cathy says. "Many clients have remarked that they now have hope for a life with greater freedom from pain."
---
Professional License
33.007380-S
Certifications
Ohio State Medical Board
Specialized Training
American Institute of Massage Therapy
Upledger Institute, CranioSacral Therapy Certification, 1997