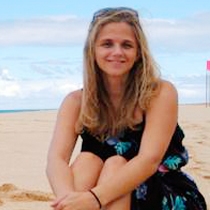 Dacia R.
Massage Therapist "LMT"
---
With a focus on bodywork for injury, licensed mobile massage therapist Dacia Rollins has developed a highly reputed practice through which she provides healing and pain relief for athletes all over Oahu's North Shore.
After graduating from Spa Luna School of Holistic Massage Therapy in Haiku, Maui, Dacia established North Shore Mobile Massage in 2008. It wasn't long before word spread of her "professional, thorough, skilled" nature, resulting in her invitation to work the Vans Triple Crown Surfing contest as part of Dr. Leland Dao's medical team.
Dacia has become known on the North Shore for her "outstanding skills" and ability to help individuals who are injured or in pain. She has experience working with clients to address everything from lower back pain, sciatic nerve pain and rotator cuff injuries to migraine headaches, car accident injuries, hip flexor tightness and pain, tennis and golfer's elbow, sports injuries, tendonitis and neck pain.
Throughout her fruitful career, Dacia's clientele has expanded to include countless professional athletes, sporting event contenders, brides, corporate practices, spa parties and the Rip Curl Surf Team. More than her dedication to helping customers live free from pain, it's the prospect of enhancing the overall quality of their lives that motivates her from one day to the next.