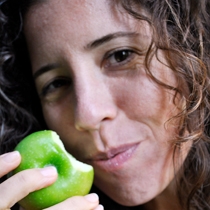 Marina d.
Holistic Nutritionist
Marina de la Torre strives to help her clients make the most of life. She's here to guide, inspire and support clients to become the best and healthiest version of themselves.
Marina's approach to wellness is a combination of nutrition theory and practical, effective coaching techniques. After an initial complimentary phone consultation, Marina looks beyond her client's symptoms to the underlying cause. Together they establish short and long-term goals, monitored progress of goal attainment, accountability and strategy development.
While her physical practice is located in New York City, Marina is also available nationwide by phone and via Skype. Her goal is to help clients take control of their well-being and learn to successfully incorporate healthful lifestyle behaviors and sustainable habits for improved health and quality of life.
Marina first established healthfulQuest™ to, "facilitate women's personal development for individual growth and performance through a natural and integrative approach to health." Dedicated to cultivating self-awareness, Marina uses a preventive approach to health which effectively uses food as medicine.
Benefits of a healthier lifestyle, Marina says, include stronger immunity, better digestion and increased energy and vitality. It can also aid one's own understanding of their wellness, and can help cultivate the ability to make healthful food choices, achieve and maintain optimal weight, prioritize health, prevent chronic disease, manage cravings and identify food-related allergies, intolerances and sensitivities.
Marina's ultimate objective is to help her clients make the necessary dietary and lifestyle changes to produce real and lasting results. A true believer in the importance and the benefits of healthy, nutritious habits, she is here to help her clients find personal and professional success through "greater vitality, clarity, balance and performance."
---
Certifications
American Board of Preventive Medicine
Specialized Training
Institute for Integrative Nutrition
NLP Center of New York, NLP Coach Practitioner Certification