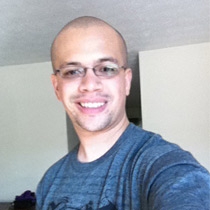 Luis R.
Massage Therapist "LMT"
Find balance. That's what licensed massage therapist Luis Rivera encourages all of his clients to seek in their lives, whether through holistic practices like massage therapy or through personal reflection.
There's nothing "routine" about a massage from Luis, who has a massage therapy certification from the American Academy of Massage and is currently pursuing a master's degree in injury management from Life University. Going above and beyond, and constantly researching the latest on muscles and muscle actions, his goal is to treat every client as an individual while becoming a recognized leader in the field of neuromyology.
For Luis, it's plain and simple: "I love seeing the transformation in a client and the awesome progress one can make in just a few sessions." To facilitate the healing process, a first appointment always involves a quick intake of his client's current health. "Then, we tailor their session as we see fit to progress in their goals," he adds.
Attracting students and athletes from local area schools, Luis also teaches his clients not only how to enhance their physical well-being but to balance their breath along with their body positions. If they can learn how to release tension during a session, and to then prolong that feeling once their massage is over, then they can leave renewed and maintain that sense of comfort long after.
---
Professional License
546059-07 NCBTMB 227009205 Illinois
Certifications
Georgia Board of Massage Therapy
Specialized Training
American Academy of Massage, Massage Therapy Certification, 2007