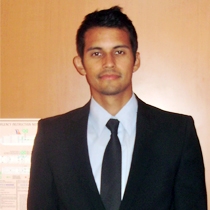 Eli C.
Chiropractor "DC"
"Chiropractic care is more than just making the pain disappear," says Dr. Eli Cummings, a doctor of chiropractic medicine and a practitioner at Rice Chiropractic Clinic. "It is about learning, understanding and taking care of your body to improve quality of life."
Dr. Cummings earned his chiropractic degree from Texas Chiropractic College before continuing to study alongside Dr. Edward C. Murphy (a neurosurgeon). He obtained his post-graduate degrees in acupuncture and nutrition.
Working among the revered practitioners of Rice Chiropractic Clinic, a facility that has been healing patients for over 50 years, has instilled Dr. Cummings with a unique perspective on and thorough understanding of long-term wellness. There, he utilizes the latest chiropractic care techniques along with nutrition, acupuncture and lifestyle recommendations to create customized treatment plans that address the patient's individual wellness needs.
Dr. Cummings believes that the patient's dedication can often be as important as the treatment process itself. "Lasting changes require diet or lifestyle modifications and a personal commitment from the patient," he says. "We need to be equal partners in your quest for optimal health."
---
Professional License
10277