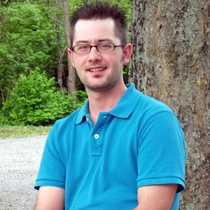 K.C. S.
Massage Therapist "LMT"
K.C. Schellhammer believes that a happy person is one who is ready to take on the day, fully charged and able to handle anything that comes their way. "I believe to be truly happy, you have to be healthy," he says. "Massage does both."
K.C. is a Tennessee State licensed massage therapist and a graduate of Southeastern Institute in Nashville, Tenn. Now practicing in Franklin, he has more than 750 hours of training with an emphasis on neuromuscular massage, along with a surefire sense of confidence in helping stressed out clients to find relaxation and comfort.
"I teach my clients to let go and completely relax on the table," says K.C., who understands that this is often one of the most difficult parts of the session. Naturally, he finds both satisfaction and motivation in their progress and in "seeing a client in pain or discomfort come in and leave feeling completely relaxed, or seeing a client who was holding one shoulder higher than the other relaxed and balanced."
---
Professional License
8588
Certifications
Tennessee Board of Massage Licensure
Specialized Training
Southeastern Institute, Nashville, TN