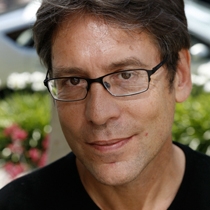 Ricky F.
Chiropractor "DC"
A Doctor of Chiropractic since 1986, Dr. Ricky Fishman is the co-director of Chiromedica, an integral holistic health care center, where he and his team place "the patient at the center of the care process, as they should be."
When Dr. Fishman first went into practice, he knew what kind of office he did not want to run—a cold, uninviting and sterile one. Visitors to his headquarters in an old Victorian building on San Francisco's Union Street will be pleased to find that, for Dr. Fishman, "Healing begins as soon as the patient comes through the doors," as they discover a warm, welcoming and relaxing environment.
At his practice, Dr. Fishman works with an able team consisting of medical doctors, physical therapists, acupuncturists, nurse practitioners, naturopaths and occupational therapists in order to provide the best care possible in an innovative, integrative environment. He explores all aspects of his patients' lives in order to see the full picture of what brought them in for treatment, knowing that, whatever therapies are needed, they will stay in good hands thanks to his wide network of specialists and referrals.
According to Dr. Fishman, proper function of our bodies depends on healthy management of our daily stresses, whether physical, emotional or chemical. He strives to empower his patients by teaching them to find the root of their problems and the tools to take care of themselves. His therapeutic approach engages a unique blend of nutrition, chiropractic therapy, acupuncture and Western medicine in order to leave patients feeling whole and balanced.
In addition to his practice, Dr. Fishman also runs a small educational travel company called Integral Expeditions. He has led tours to Peru, Nepal, Singapore, Vietnam, Mexico and Bali, with programs that span from "The Health Care System of Cuba" to "Sherpa Buddhism of Nepal."
Dr. Fishman is interested not only in the nature of healing but also its philosophy and its history, and is an avid reader and writer on the subject. As a complement to his clinical work, he taught for over 20 years at the New College of California, and starting in September 2012, he will be teaching Complementary and Integrative Medicine at the California Institute of Integral Studies.
---
Professional License
17680
Certifications
California Board of Chiropractic Examiners