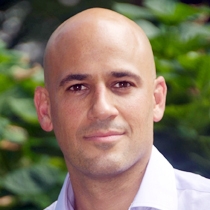 Greg S.
Chiropractor "DC"
As a dedicated father and owner of Madison Square Chiropractic and Wellness Center, Dr. Greg Shure knows how demanding the New York City lifestyle can be. Offering personalized chiropractic care, he works with busy stay-at-home moms and corporate executives alike, providing holistic health care that aims to help clients "live, feel and be well."
A New York native, Dr. Shure was introduced to the benefits of chiropractic care as a competitive soccer player in high school. After sustaining an injury on the field, he was introduced to a chiropractor who not only got him back in the game that season but inspired his career path.
At Madison Square Chiropractic and Wellness Center, Dr. Shure caters to a wide range of clients, from busy moms to the corporate offices of Birchbox, Tumblr, American Eagle Outfitters, Digitas Advertising and The Gilt Group. Yet, whether single client or group event, it's his ability to approach everyone as an individual that has earned Dr. Shure his stellar reputation as well as consulting positions for David Barton Gym, Origins, Aveda and Sephora.
"My chiropractic therapy focuses on the entire muscle system and posture of each client," Dr. Shure explains. "I look at the current and past stresses that the person has encountered. Do they sit at a desk all day? Are they a fitness enthusiast or mostly sedentary? What are their wellness based goals once they begin to feel and move better?"
On a physical level, Dr. Shure's chiropractic aim is to "unlock and release muscle knots that inhibit movement and have created long-standing tension and often pain." To do so, he uses digital posture pictures as the basis for his evaluation, incorporating the most advanced therapy tools, including flexion/distraction tables, to release his clients' muscles and improve alignment.
Ultimately, however, Dr. Shure's dedication to his profession is rooted in a desire to improve his clients' overall well-being while setting them on a path to better health. "My passion in chiropractic is helping people move and feel better," he says. "I try to inspire people to think about their symptoms as a result of pushing their body and ignoring common warning signs."
---
Professional License
10168
Certifications
New York State Board of Chiropractic
Specialized Training
ART (Active Release Technique), Upper Extremity Course, 2012
Perinatal Care, Webster Certification, 2011
Applied Kinesiology in Clinical Practice Certification, 2008