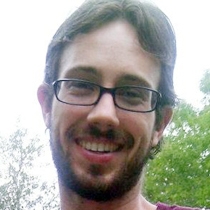 Andrew H.
Massage Therapist "LMT"
Andrew Hix says it was at the Florida School of Massage that he learned to "use his heart to fuel his hands." As a licensed massage therapist, he says he is continually amazed by the results, which include deep relaxation, relief from pain, increased self-awareness, and a general sense of well-being. "And my clients feel pretty good, too," he jokes.
Andrew first became interested in massage therapy when he sensed the powerful therapeutic presence of a close friend who had just completed massage school. "Her whole persona had changed, and her mind had opened to new ideas and healthier ways of living," he says. "Through working with her, I felt my heart open to a whole new field of opportunities." Andrew was inspired to attend massage school himself, and says that now he most values the "heart-to-heart communication I share with my clients through touch."
As a therapist, Andrew believes his practice is distinguished in three key ways: 1) Awareness of the client. "I track my client like a hawk," Andrew says. "Such a deep focus allows me to respond to the client's unconscious behavior with agility and therapeutic presence." 2) Expertise in tai chi. "I utilize the flowing movements of this ancient martial art to move about the table and deliver subtle and sensitive contact. As an added benefit, my hands generate great amounts of heat very quickly." 3) Unconditional positive regard. "The extraordinary care I offer my clients allows them to achieve positive results both during and after their session."
Andrew says he views his practice as an opportunity for client education, and tries to teach all his clients the importance of finding a safe space to relax, listening to their bodies, and accepting that everyone has the power to heal through self-care.
"I focus my practice on providing a therapeutic presence for the client, which for me means co-creating a secure space where transformation can occur, a space where habitual efforts and tensions give way to deep inner focus and rejuvenation," Andrew says. "Within this safe space, I use genuine caring and skillful touch to assist the body's natural healing processes. As the client relaxes, unwinds and releases accumulated tension and toxins, a lighter, more comfortable way of being emerges effortlessly."
---
Professional License
MA68037
Certifications
Florida Board of Massage Therapy
Specialized Training
Florida School of Massage, Massage Therapy, 2012