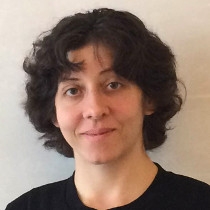 Stephanie W.
Massage Therapist "LMT"
Stephanie Welch takes an educated, scientific approach to massage. With a passionate interest in "how the body works and why," she hopes to help influence her clients' health naturally and positively.
In her two years as a massage therapist in the Boston area, Stephanie has stayed busy at Joint Ventures Physical Therapy and Fitness in Cambridge.
Stephanie says her clients come from all different backgrounds, citing students, medical professionals, fellow bodyworkers and software developers as examples. The benefits of massage, in other words, are universal. She hopes to convey this message and to encourage visitors to open their lives to the positive effects of massage. "I want people to know that they can get real help and not have to feel self-conscious," she says.
Stephanie's methods range from light to very deep pressure, and can even be moderately active and include muscular and fascial release techniques. More than anything, she hopes to help her clients feel at ease during each session, and prides herself on being open-minded, compassionate and nonjudgmental, enabling clients to "fully relax by knowing that it's a safe environment."
The true power to change is in the hands of her clients, Stephanie says; she is simply a facilitator. She hopes to help people come to realize how much they can gain through exercise, good nutrition and positive changes in their posture. Stephanie does everything she can to help mentally ground visitors, whether it's "practicing self-compassion or organizing and acting more on the things they want to accomplish." Change can be difficult, she notes. Stephanie simply wants to help her clients take strong and healthy steps toward living better.
---
Professional License
MA license 8550
Certifications
Massachusetts Board of Registration of Massage Therapy
Massachusetts Board of Registration of Massage Therapy
Specialized Training
Cortiva Institute, Boston, MA
Current & Previous Employers
Joint Ventures Physical Therapy and Fitness (Cambridge, MA);