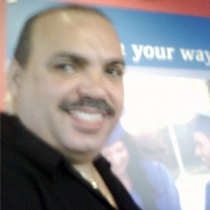 Rey R.
Massage Therapist "LMT"
Clients seeking to relax and unwind after a long day look to Rey Reyes, a licensed massage therapist offering mobile services in Kissimmee, Fla. Combining several modalities into one session, Rey strives to provide immediate relief that long outlasts the session.
Formerly a computer technician from Brooklyn, Rey switched his career focus from one revolving around data to one centered on bodywork. After graduating with honors from Everest University's massage therapy program in March 2012 (with a 4.0 GPA at that!), Rey began his own mobile business to provide affordable, quality treatment.
"I feel very passionate about massage therapy and hope to provide a memorable massage session for my clients," Rey says. To do so, he offers individual sessions, couples appointments and prenatal/postnatal massage.
In addition to private sessions, Rey is also available for parties. He provides Swedish, deep tissue and foot massage as well as trigger point therapy, myofascial release and reflexology. In the future, Rey plans on incorporating reiki into sessions.
---
Professional License
MA68141
Certifications
Florida Board of Massage Therapy
Specialized Training
Everest University