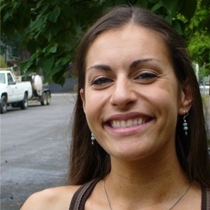 Chandra S.
Massage Therapist "LMT"
Chandra Stead, owner of Renewal Therapeutic Massage in Cincinnati, Ohio, wants everyone to benefit from massage. From triathletes to office workers, she provides pain relief to individuals suffering from pain or the dire need for relaxation.
A former graphic designer, Chandra suffered from migraines and muscular tension for many years. When she realized how massage could make a huge difference on her quality of life, she decided to dive head first into a bodywork career to help others.
Most of Chandra's clients also suffer from chronic pain, resulting from accidents, injuries or complicated pregnancies, and she has great empathy for their individual needs. Each session features a combination of techniques, including trigger point therapy, Swedish massage, myofascial release, deep tissue massage, Thai massage and assisted stretching. Sessions lasts a full hour or longer with warming lotion, arnica or Bio-Freeze used at no extra charge.
Originally from Portsmouth, Chandra has been in Cincinnati since 2003. An avid yoga practitioner, Chandra wants to help clients raise their inner awareness by showing them how to recognize imbalance before it becomes impairment. "Massage is a great way to become more aware," she says. "Ignoring your pain doesn't make it go away. Acknowledging it and treating your body well does."
Chandra encourages clients to see stretching as a requirement, not an option to ignore. "Doing your part to help yourself will go a long way to speeding your recovery and maintaining your results," she says.
---
Professional License
Ohio #33.015947
NCBTMB #519744-06
Certifications
Ohio State Medical Board
National Certification Board for Therapeutic Massage and Bodywork
Specialized Training
Cincinnati School of Medical Massage, 2005