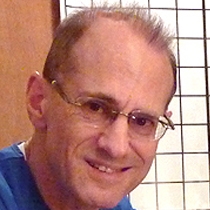 David W.
Massage Therapist "LMT"
A mastery of therapeutic massage techniques and applications enables state licensed and nationally certified massage therapist David Weschler to work with a diverse population of clientele, intuitively reacting to subtle restrictions in the body's structures while relieving pain, discomfort and stress.
A former successful public interest lawyer in New York City, David works with men and women of all ages, physical conditions and degrees of wellness through his private practice, The Right Massage Therapy. "My tools are now therapeutic touch instead of advocacy, but developing a relationship of trust with each client and providing effective relief call upon the same professional standards," he says.
David demonstrates a thorough knowledge of the human body's complex anatomy of fascia, muscles, nerves, ligaments and bony structures, along with the physiological effects of age, stress, illness and other conditions. He says, "The pace, pressure and depth of the strokes are accommodated to each client in order to optimize benefits."
What to Expect
A typical session begins with listening to the client in order to determine areas of stress, discomfort or pain as well as their goals for their massage. During this time, David asks about their medical history, repetitive strain activities and recent surgeries or illnesses. "These inform me regarding areas of the body that may need special focus or approach during treatment," he explains.
After giving clients a quick overview of the session, David proceeds to deliver the massage using full draping. He checks in with the client periodically to adjust for depth of pressure and encourages feedback at the session's conclusion.
---
Professional License
NJ License 18KT00054800 NY License 025784
Certifications
New Jersey Board of Nursing
New York State Board of Massage Therapy
National Certification Board for Therapeutic Massage and Bodywork