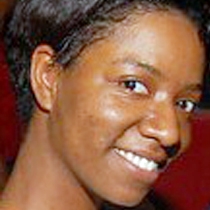 Leslie F.
Massage Therapist "LMT"
Licensed massage therapist Leslie Ferguson is passionate about alternative approaches to health and wellness and fosters the desire to spread this message to the Atlanta community and beyond.
"I am what you call an 'Army Brat.' Both of my parents were in the army medical services," says Leslie. "The medical field has always been a passion of mine, but I wasn't sure how to approach it." A friend later introduced the concept of complementary and alternative medicine to Leslie, and as soon as she experienced the healing power of massage, she became determined to "share it with the world."
A firm believer in the connection between the mind and body, Leslie obtained a degree in psychology, then went on to study massage therapy at the Academy of Somatic Healing Arts in Norcross, Ga. While there, her desire and love for alternative medicine "skyrocketed." She is certified in several modalities, including sports and pre- and perinatal massage, and a self-proclaimed "avid user of aromatherapy."
Leslie is convinced that structural and postural balance is at the heart of maintaining optimal muscular and bodily functions. With this in mind, she crafts advanced massage sessions that address the individual needs of her clients. She is also proud of using only all-natural, high-quality supplements, oils and scrubs. "I like to incorporate the relaxation and enjoyment of a spa experience in with the health and wellness benefits of massage," she says.
Her inviting, non-clinical facility is relaxing, but it's Leslie's warm smiles that makes clients feel welcome and at home. "I'm looking forward to a long and healthy career in this field, and to educating the world!" she says.
---
Professional License
MT006070
Certifications
Georgia Board of Massage Therapy
Specialized Training
Academy of Somatic Healing Arts, Massage Therapy, 2009