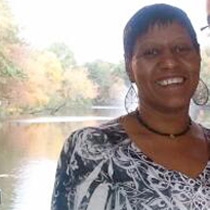 Andrea S.
Massage Therapist "LMT"
---
Andrea Scott has an "all things in moderation" view of health, and tries to help her clients make connections between what they're experiencing on a physical and mental level in order to improve the quality of their lives.
A licensed massage therapist and an independent bodyworker in Newington, Conn., Andrea grew up among the hustle and bustle of New York City and is familiar with the effects of a busy, fast paced life. "I moved to calm down my life," says Andrea, who now seeks to help residents of Newington to ease tension, lower their blood pressure and treat their bodies with "love and care."
In fact, that's what Andrea loves most about her line of work: helping clients relax and relieve pain while sharing her knowledge. She has a sharp awareness of how to balance her clients both physically and mentally, and applies a multitude of bodywork techniques designed to enhance their health and well-being.