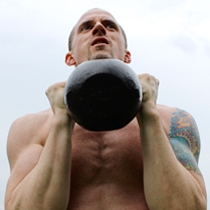 Johnny N.
Personal Trainer "CPT"
Motivation is often a lagging factor for those trying to lose weight or tone up. Johnny Nasello, a certified personal trainer based in Portland, Ore., wants to make it easier to obtain fitness goals—by allowing clients to bring a friend along to workout sessions, at no additional cost.
"Training with me is more affordable and more motivating than training with nearly anyone else," Johnny says. "I genuinely want you to stick with it and get the body you've always wanted."
Happy to help individuals become better versions of themselves, Johnny is available on-site in client homes or at four Fulcrum Fitness locations. He provides the customized workouts while clients provide the effort.
Johnny teaches proper techniques and effective methods to safely maximize results (some high-intensity interval training exercises can offer a complete cardio workout in just 20 minutes and without extensive equipment). He also works with Kettlebells and incorporates power vinyasa yoga into routines.
Although he routinely offers motivation and nutritional advice, Johnny is not into "handholding." He encourages clients to change their overall lifestyle, from nutrition to healthy habits, and of course, exercising on their own. "Actively change your home-time habits," he insists. "You can work as hard as you want at home or in the gym, but without lifestyle modification, the results that you're after will be elusive."
---
Certifications
American Council on Exercise (ACE)
Specialized Training
TRX Certification