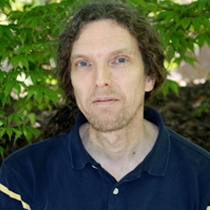 Richard B.
Massage Therapist "NCTMB"
Certified massage therapist Richard Bartlett is a mobile therapist based in Lansing, Mich.
In practice for over 19 years, Richard first became interested in massage as a way to help his wife, who was suffering from chronic pain due to rheumatoid arthritis. Today, Richard is committed to helping other families via this holistic healing art too.
"I aim to be like a good family practitioner, or an old-fashioned country doctor, but also a modern, professional massage therapist," Richard says. "I will respect your home and family, I won't mind your pets or clutter, and I will treat anyone for anything that is within my scope of practice."
Richard's "scope of practice" includes a broad range of conditions, including migraines, edema, insomnia, nerve impingement and muscle pain. He specializes in Swedish and deep tissue massage, as well as instrument assisted soft tissue mobilization, generally preferred by athletes. "Above all, I respect my clients' wishes, and I use techniques suited to their needs," Richard says.
Richard is committed to keeping his rates affordable and guarantees that clients will only be charged for the minutes they spend actually "in his hands." Consultations are complimentary, Richard says, adding, "If I need a few extra minutes to figure out what you need, I may add a few minutes to your session. This is always free, and you only pay for the time we agreed to."
In his free time, Richard enjoys karate, and he is currently a first degree brown belt. "In the style of karate that I practice, we talk about awareness on three levels: physical, mental and spiritual/ emotional," Richard says. "I try to remain aware of these three levels when I give a massage. I give the client the kind of touch that is most helpful to them, I listen to their concerns and observations while sharing, and I remain respectful of them and try to be supportive and encouraging in whatever way they need."
Richard begins each session with a brief health history consultation and discussion of the client's concerns and goals. During the massage, he is careful to communicate what therapeutic techniques he is using and why, and encourages clients to respond if they are in any way uncomfortable or have a request. After the massage, Richard will make recommendations for home care in order to further the healing process.
---
Professional License
NCBTMB 614903-12
Certifications
National Certification Board for Therapeutic Massage and Bodywork
Specialized Training
Lansing Community College, 1994 (Therapeutic Massage Program), 2011 (Expanded 750-Hour Massage Program)