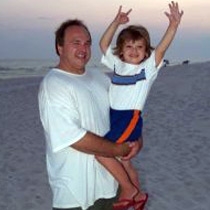 Craig B.
Massage Therapist "LMT"
Although licensed massage therapist Craig Bowlen has been practicing since 1988, his bonafide interest in bodywork and healing dates back to his childhood. "My grandfather was a professional athlete," recalls Craig. "I started working on him as a young boy; since then, my hobby has turned into a career."
From innocent beginnings, Craig was able to turn his passion into a profession, and has spent the last 25 years honing his skills. "I have had extensive continuing education integrating a multidisciplinary approach," he says, adding that he has also developed his own unique style to address the internal and external structures of the body.
A pain care specialist through and through, Craig explains that local wellness practitioners, from chiropractors and physical therapists, entrust his opinion when it comes to those cases that are especially difficult to solve. His particular talent is pinpointing client's issues in a timely manner. "People say I get them well too fast," he jokes.
---
Professional License
MA 40334
Certifications
Florida Board of Massage Therapy