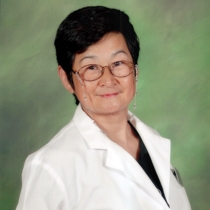 Frieda M.
Acupuncturist "LAc"
Frieda Mah, a licensed acupuncturist in the State of California, seeks to improve her patients' health and well-being by equipping them with the tools and knowledge they need to prevent the onset of illness. The ultimate goal: to "turn around a patient's life."
With an eye on long-term health, Frieda's treatments aren't merely focused on current complaints. Instead, she aims to point out the underlying symptoms that eventually blossom into deficiencies in a patient's life. By treating the root problem (or problems), more effective and efficient healing can be made possible.
Patient education is also essential to Frieda's work as an alternative health care provider. "Through health education," she says, "we help people to grasp key concepts and attitudes toward a healthy way of living."
Throughout her career, Frieda has successfully treated patients both in the U.S. and abroad in China through a blend of therapies, including acupuncture, moxibustion, herbs (raw, condensed, formula-based), cupping, tui na and Chinese exercise. Patients, who range from toddlers to those in their 90's, believe (or their parents believe) that their health is a valuable asset and take note of the importance of preventative medicine.
What to Expect
Frieda asks patients to eat a light meal before a session in order to prepare the body for self-healing. Clothing should be loose and short.
Many patients describe feeling improvement during the session. She encourages clients to speak openly as to any sensations that may be present in the body.
---
Professional License
11030
Certifications
California Acupuncture Board
Specialized Training
Han Tang School of Acupuncture, Clinical Training for Tough Cases, Merritt Island, FL, 2010