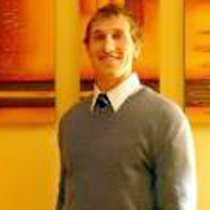 Paul H.
Chiropractor "DC"
"We all have the ability to make this life a paradise," says chiropractic physician Dr. Paul Hodgson. "By removing interference to the infinite potential of each individual, we allow their creative beings to shine, improving their health, happiness, relationships, creativity and understanding."
Dr. Paul offers a comprehensive blend of innovate chiropractic techniques, along with a firm understanding of healthy habits, to help patients deal with a range of issues, from thyroid concerns and fibromyalgia to constipation, asthma, migraines and more. "When I first decided to be a chiropractor, I thought I was going to help people with injuries and pain," Dr. Paul recalls. "What I didn't realize was how much of an impact to health I would have on people through adjusting."
Dr. Paul's practice is based on his belief that humans are multidimensional beings with complex functions. Aches and pains, in other words, are more than simply problems to be fixed.
At his clinic, Dr. Paul operates under the ADIO principle, "which states that health comes from Above Down Inside Out." He continues to describe how conventional medicine is, in many ways, fundamentally flawed because symptoms are often our body's way of alerting us to a deeper issue. "Covering it up is like removing the bulb to your check engine light in your car," he explains. "It can give us peace of mind for a while but keeps us in the dark that there is something in our body that really needs attention."
In order to treat his patients in a holistic manner, Dr. Paul draws upon a number of techniques. "I am able to adjust the spine with blocks, drop tables, weights and instruments where appropriate," he explains. In addition, he also offers massage therapy, lifestyle advice, spinal and postural screenings and has an extensive knowledge of diet and nutrition.
"Chiropractic care can prevent injuries and help patients achieve total health or wellness," says Dr. Paul. "I am incredibly grateful to have found my purpose in life and to have the opportunity to serve my patients and make a profound impact on our community."
---
Professional License
DC 31871
Certifications
California Board of Chiropractic Examiners