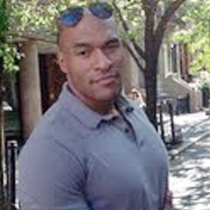 Kenny G.
Personal Trainer "CPT"
No pain, no gain. "Blood, sweat and tears is what it takes," says certified personal trainer Kenny Grant, who believes that achievement requires, "hard work and the desire to work for what you want from yourself!"
While Kenny's honest approach may seem intimidating at first, he wants clients to know that he has been in their shoes before. "I know how they feel," he says, describing the frustration of pushing toward a goal without instant gratification. "Getting into better shape is not easy, but it feels good when even the smallest signs of change have been noticed. Being fit is a journey!"
Kenny trains all sorts of clients, and enjoys working with each one more than the next. All it takes: the desire to feel, look, perform and be better. "I love meeting new people who have a desire to get into whatever type of physical shape they choose," says Kenny. "I want to help people achieve what I fought for." This includes weight loss, healthier cardiovascular fitness, aesthetic improvement and, above all, self-confidence.
Kenny is certified by the National Council on Strength and Fitness. He has nearly 10 years of experience as a fitness instructor in New York City, a year of experience managing 16-plus trainers, and is currently employed by Equinox Fitness.
---
Professional License
2711511
Certifications
National Council on Strength & Fitness (NCSF)
Specialized Training
Kettlebell, Certified
Vipr, Certified