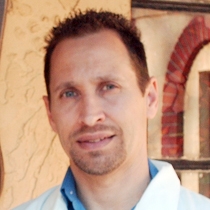 Rudek P.
Acupuncturist "AP"
Licensed acupuncturist Rudek Perez has a passion for treating his patients holistically with acupuncture and other Traditional Chinese Medicine techniques.
"Whether you are in pain and tired of taking medication; or you are a female dealing with endometriosis, menopause, infertility, PMS, PCOS or fibromyalgia and want to try a natural approach; or an athlete with a sport injury or trying to improve your performance—Chinese medicine, acupuncture and Chinese herbs can help you achieve optimum health," says Rudek.
A graduate of the Florida College of Integrative Medicine, where he earned summa cum laude recognition, Rudek is an expert in acupuncture, cupping, tui na massage and herbal therapies. He specializes in the treatment of pain, sports injuries, stress and gynecological issues, with a focus on infertility.
"I try to teach clients to look at their conditions from a holistic point of view," Rudek says. "Excessive stress, poor diet, lack of exercise and other behaviors may be at the root of their problems. Simply addressing the symptoms is not necessarily going to provide long-term healing."
Rudek, a Diplomate in Oriental Medicine, is committed to spending quality time with his patients. A first visits lasts two hours; follow-ups usually an hour and a half. He offers nutritional recommendations and detox programs if necessary, as well as customized Chinese herbal formulas.
"I love and trust nature's wisdom and healing capabilities," Rudek says. "I love to educate my patients on a healthier way of healing, and steer them away from the toxic, quick-fix approach of most Western medicine. I encourage balance and provide gentle, personal treatment."
---
Professional License
AP2124
Certifications
National Certification Commission for Acupuncture and Oriental Medicine
Florida Board of Acupuncture