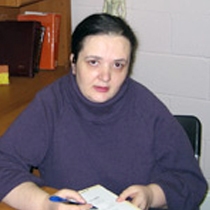 Lejla F.
Acupuncturist "LAc"
Licensed acupuncturist Lejla Fazlicic first became interested in pain management techniques while working in a war hospital in Bosnia and Herzegovina.
As a young nursing student in an impoverished hospital in war-torn areas of the world, Lejla witnessed unimaginable pain and suffering. "It is not possible to have this experience in a medical school," Lejla says. "I became very interested in methods of pain management and recovery." She went on to receive a degree in physical therapy from the University of Sarajevo, then moved to the U.S. where a different form of treatment attracted her attention: acupuncture.
Lejla enrolled in the Midwest College of Oriental Medicine, one of the oldest colleges of Traditional Chinese Medicine in America. She was soon at the top of her class. After graduation, she trained as a National Acupuncture Detoxification Specialist.
In 2011, Lejla founded Bridge to Health Acupuncture Clinic and now uses auricular acupuncture to relieve stress, fight addictions and improve the overall health of her patients. "I am here to offer alternative treatment options for a variety of health issues," Lejla says. "I have had great success in relieving pain and stress, detoxification and cosmetic acupuncture."
Lejla believes an important part of her treatment is helping her clients make peace with themselves, and to change what they can about their health while accepting the limitations of their bodies. "Results are the best motivation," she says.
What to Expect
An initial session with Lejla begins with a consultation, then a TCM exam of the tongue and pulse, followed by the creation of an individualized treatment plan. For non-English speaking clients, Lejla is also fluent in Spanish, Bosnian and Serbo-Croatian.
---
Professional License
198000990
Certifications
National Certification Commission for Acupuncture and Oriental Medicine
Illinois Department of Professional Regulation
Specialized Training
Nursing School, Bosnia, 1994