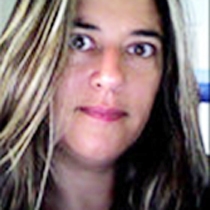 Rebecca F.
Massage Therapist "LMT"
---
Licensed massage therapist Rebecca Fouts is passionate about holistic health and wellness. She holds advanced certifications in several massage and energy work modalities and is currently training in holistic healthcare and naturopathy.
"I am fascinated by the body's ability to heal itself," says Rebecca. "The body, mind, spirit approach to wellness encompasses your "whole being" as a factor in your present health conditions. I love to see people happy and healing, and this can come in many forms and through many channels."
Rebecca also holds advanced certifications in lymphatic massage for compromised systems, Thai Yoga Therapy (described as athletic and active), and LaHo-Chi Energy Healing, a "blissful experience that helps reduce mind chatter, providing deep renewal and revitalization—and possibly greater insight or awareness regarding your own experience". She is passionate about the "tremendous health benefits of massage therapy" and offers a wide range of additional techniques, including oncology massage (for which she offers a daily discount), and SomaVeda™ (an intensive therapeutic series that address the body as a whole).
A lifelong learner, Rebecca is currently enrolled in a Holistic Healthcare Provider/Naturopath Program at the Thai Yoga Center in Plant City, Fla. She is working toward her Thai Instructor Certificate while also studying a variety of other techniques that are complementary to a holistic approach to wellness, such as Emotional Freedom Technique (EFT) and herbal studies. She has a particular focus on treatments providing detox and immune support.